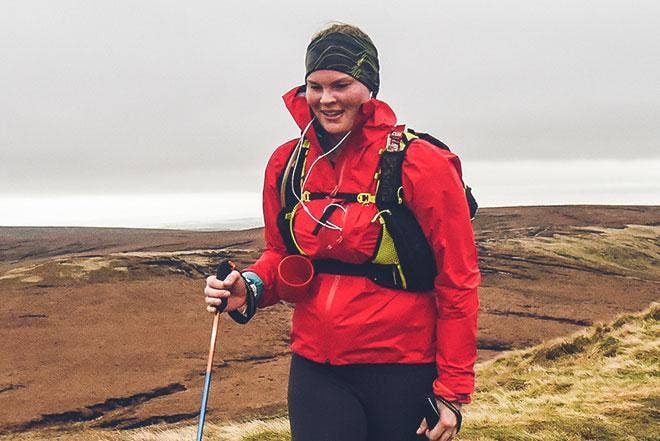 Learning to how to enjoy running starts with finding your 'why'.
Why do you run? Four words that for me would be the start of a river of reasons that could eventually flood into a book. This is probably the same for you too. On one level it may be simple, to move and stay fit. It may be to socialise. To get some headspace after a long day at work. It may be all three and then three hundred more.
---
Peel back the layers and there are so many more depths to why I run: feeling the flow of nature is one, it grounds me, the certainty of watching the seasons change, not being rushed. I also run to race, to challenge myself over distances over hundreds of miles, and the discipline of training gives. Sharing the views from my runs is the basis of all my social media, and given it's how I enjoy the mountains it's also led to my current role at Rab, and becoming a part of The Mountain People family.
Yet for now, our mountains and trails are closed, in the UK and abroad, as the world unites to deal with COVID-19 and its devastating impact on our communities. At first, running didn't seem so important, races were postponed but training could be adapted too. As we saw friends in France and Italy have their running curtailed or outright prohibited it suddenly seemed so less certain. As I write this, in the UK we are allowed out once a day for exercise, so long as we observe proper social distancing. I expect this to be reduced or stopped at some point, as people still put themselves and others at risk in their interactions. Any measures are likely to be for a prolonged period too, we are talking weeks or months, and not days. For someone who ran six days a week, often twice a day, as well as dog walks too, this is a complete change in routine, in lifestyle, but it's also a time to shift the focus and adapt. Here's why I run, which will hopefully inspire you to find your Why.
Find Your Why
I often say to people they need to find their 'why'. For me, this is the secret reason behind the 100+ milers I complete. If you have the why firmly in your mind you will endure both the training and then the lows of the race. But right now, I think about why I run and how I adapt to find these needs met in other ways. I consider myself lucky: I can follow the flow of nature out of my window, and Rab was very quick to allow anyone who could work from home to do so.
The cup of coffee in my garden, the birds, hedgehogs, and insects I can see as I work at my house, it grounds me in the same way those Peak District runs did. The headspace of working a long day might not be gained in miles, but I can shut down some chatter through mediation - I have used my online yoga and meditation subscription from @gaia more in the last few days than in the months before. Many yoga teachers have moved their classes online making this more accessible than ever before. If I miss the physical challenge, the bursting lungs as I run up my hills, I can turn to more energetic videos, @thebodycoach and @teamrunderwear have daily challenges and videos. I may not have the solitude of my long 6 hour runs at weekends, but they will be back, and I will appreciate them, even more, when they are.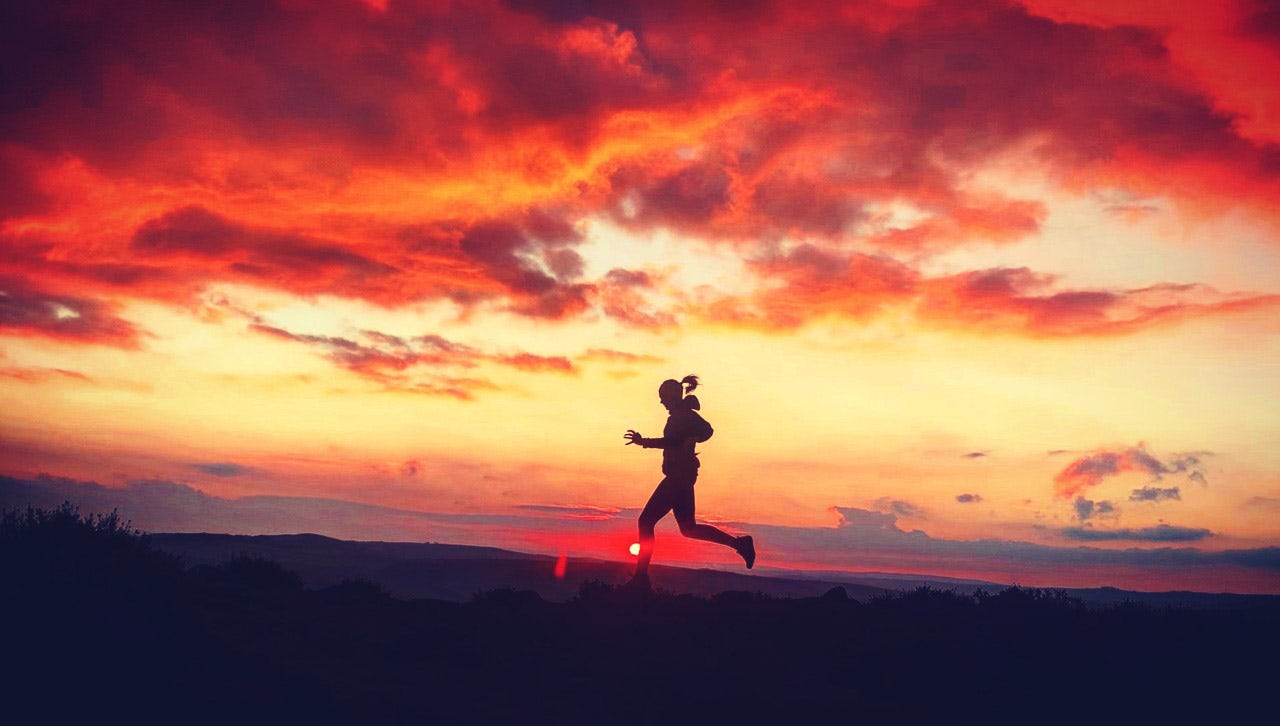 A Time to Grow
What are your weaknesses? No, I don't mean reaching for the packets of biscuits as you work from home, but I doubt there are many runners who have never had a niggle, a tightness, or a weakness somewhere. I am so guilty of letting my strength and conditioning slide when I feel fine running. So, I will be digging out my old resistance bands, foam roller, and whatever else is lurking under the bed from old physio visits, and putting them to good use as I spend all my time in the house. Working from home gives me more time for yoga, for strength and conditioning routines and for working on my little niggles – a tight ITB for me, and weak glutes. Again, YouTube, Instagram can be your teachers if you don't know where to start. On Twitter I have been following @sally_fawcett, GB runner and physio, as she and her dog Watson give us challenges of 100 reps throughout the day. Or use this opportunity to train with an Olympian as Dame Kelly Holmes as she shares running drills at 7pm on her Instagram channel each night @damekellyholmes.
However, don't put too much pressure on yourself at this time, rest and sleep could be what you need too, so listen to your body and prioritise what it needs most. We will be back running together soon, so let's be back stronger than before.
Enjoy the Stillness
Can you 'Everest' in a book pile? I have a mountain of books to read, and with all the work, training and life I never seemed to get around to them. Now is a great time for me to get through them. The running ones in my 'to read' pile include 'Running The Red Line' by Julie Carter (also check out the short film 'I am a Fellrunner' by Jessie Leong featuring Julie), 'High Inspiration' by Heather Dawe, 'Running For My Life' by @writtenbyrach - all of which I plan to read to escape the news and fear for a little while. Looking wider at endurance books I can't wait to get lost in 'Where There's a Will' by endurance cyclist Emily Chappell and also 'In the Wake of Mercedes Gleitze' by Doloranda Pember, who writes about her mum's feats of endurance swimming.
While the UK postal service remains able to function, publishers and independent book shops can send you books, insights into people and worlds that can soothe and inspire us. Vertebrate Publishing are currently offering discounts and I can recommend 'There's No Map in Hell' by Steve Brikinshaw for some of their running offerings. These are just books, but so many others are sharing films and podcasts, where we can remind ourselves of the landscapes and adventures that await us when we emerge.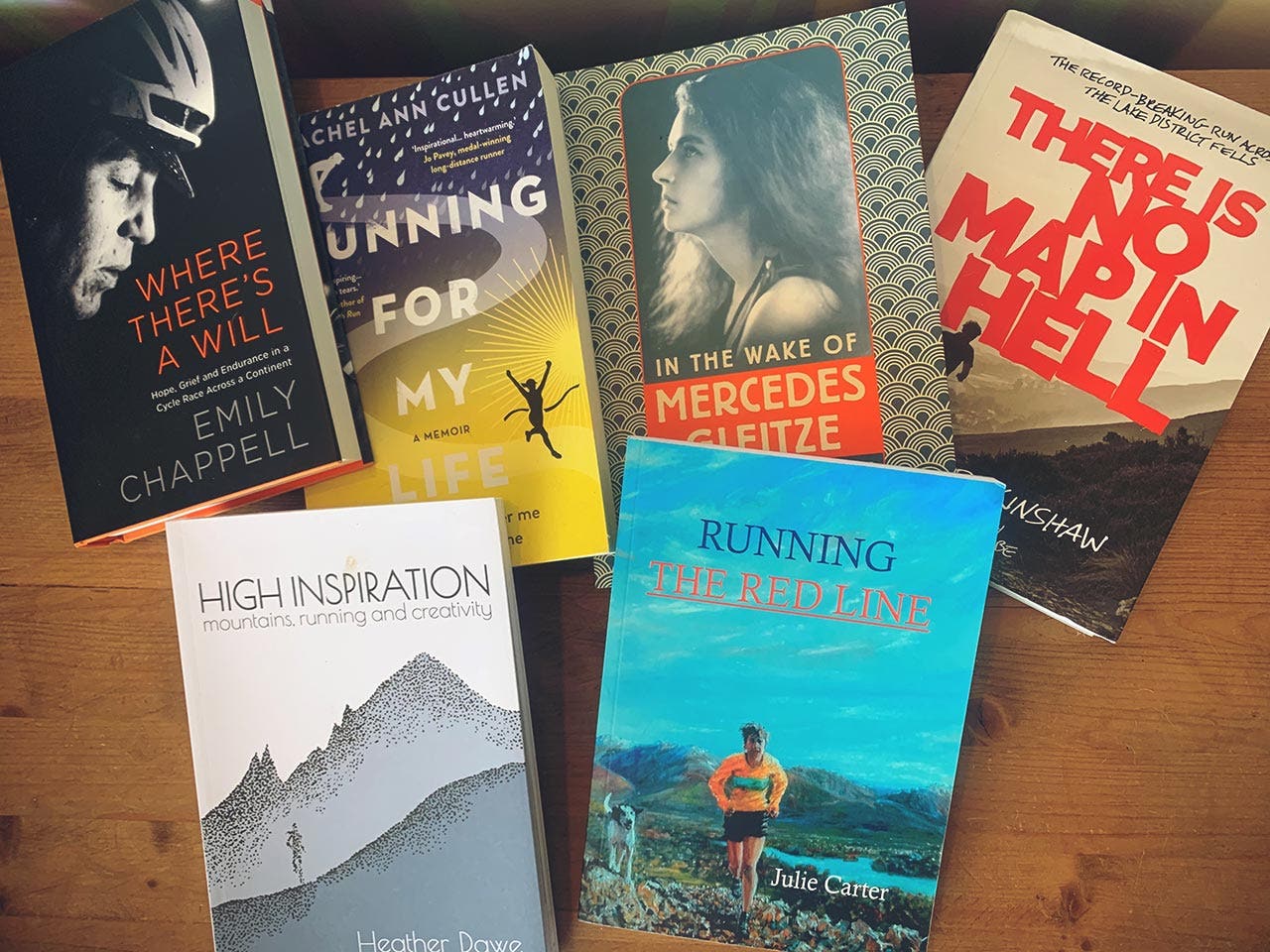 Reach Out
I've been injured before, I've been ill, and it's a lonely place for a runner. Last year when I couldn't run, I withdrew from the runners around me, finding it hard to celebrate their runs and ultras when I couldn't get out. But this is different, we are all in this together, and though now is a time for physical distancing, it could never be more important for social interaction. So call your running friends, check-in with how they are coping, ask them what they are watching, reading, listening to and share your own back.
I have been lucky to run throughout the world, across deserts and mountains, with strangers that soon became friends. Like everyone, I watched COVID-19 spread across the world map with horror, but it affirmed this - we are all connected. And just like the destruction spread from person to person, so too can the kindness, the hope, the joy. Imagine that spreading between us and know that is in our power too.
I often used to wish running wasn't so important to me; for all the amazing things it gives me I also knew it could be, and sometimes was, suddenly taken away by things outside of my control. It has been now. But that doesn't mean I have lost everything and neither have you. I still have a body that can move, even if that's restricted to a tiny garden and house for now, I still have a job that allows me to sit at home and write about running (thanks Rab!), I still have so many sources of inspiration for when we can return to the mountains, but most of all I still have the connections that running brought me, the people and friends that share my fears now just as much as we shared our runs and dreams before. And though the current trail beneath our feet feels rocky and unstable, we run it together, in step, and just beyond the horizon, that we can't quite see, is the sunrise, a new dawn bringing with it the new closeness of this time, and a new appreciation of the privilege we had, and will have again.
Look after yourself, look after others, and see you on a trail soon my friends.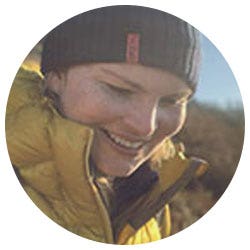 Words by | Julia Littlefair
@jenscotney is PR and Content Coordinator at Rab and ultrarunner based in the Peak District.