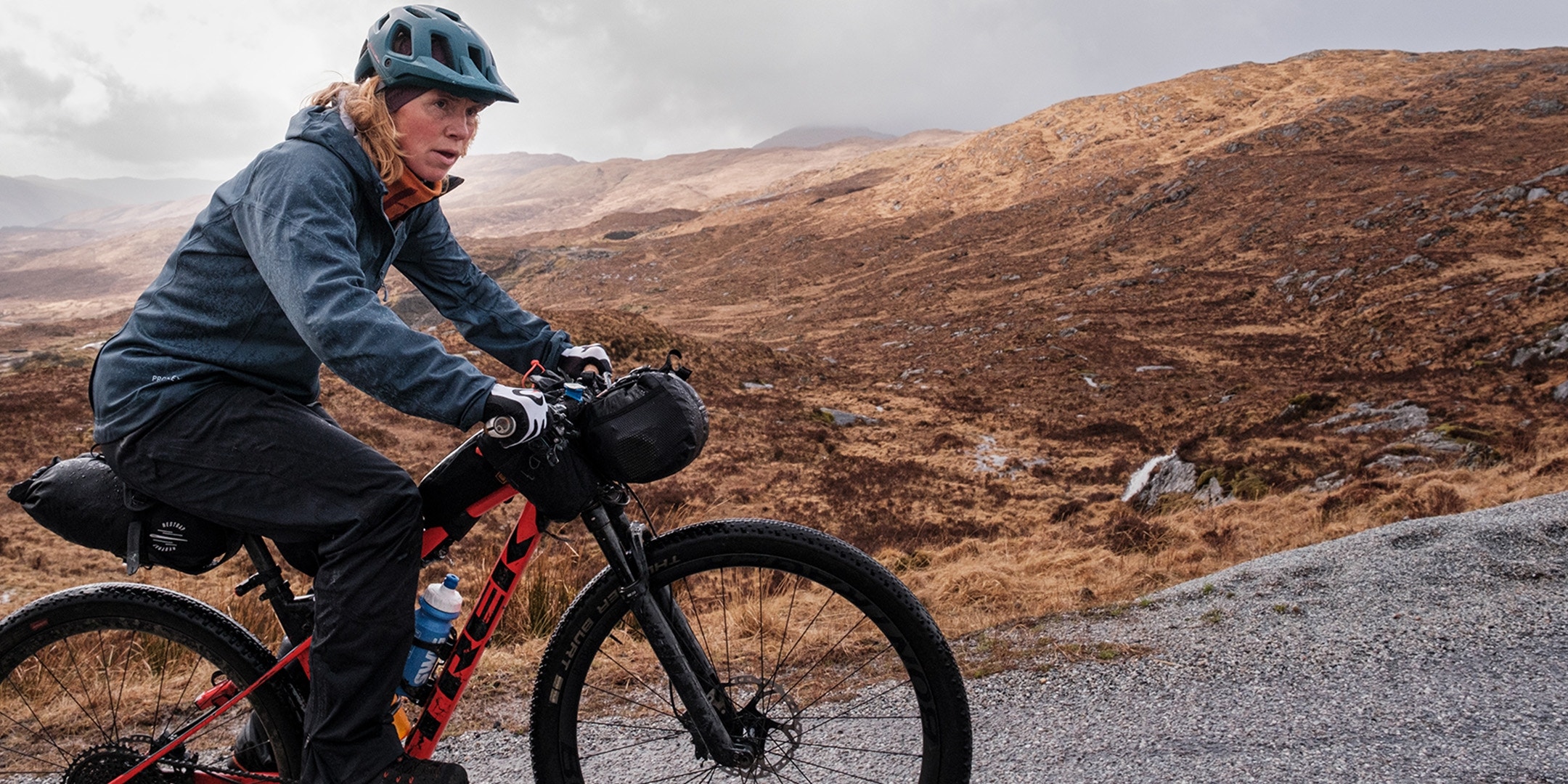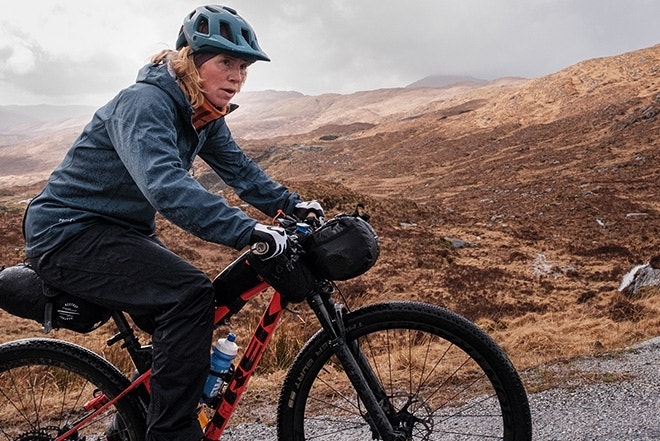 Touring can be daunting for anyone going on their first bike-packing trip.
Where do you even start?
Whether on a massive cross-country adventure or a simple weekend overnighter, there are many ways to set up your bike for touring.
This article covers a few different setup options for whatever type of bike your ride, from mountain to road. We will also discuss what to take and how to take it for trips of 1-2 days to 3 weeks and beyond. These different setups will give you plenty of ideas and inspiration for mounting luggage on your bike, ready for your next epic ride.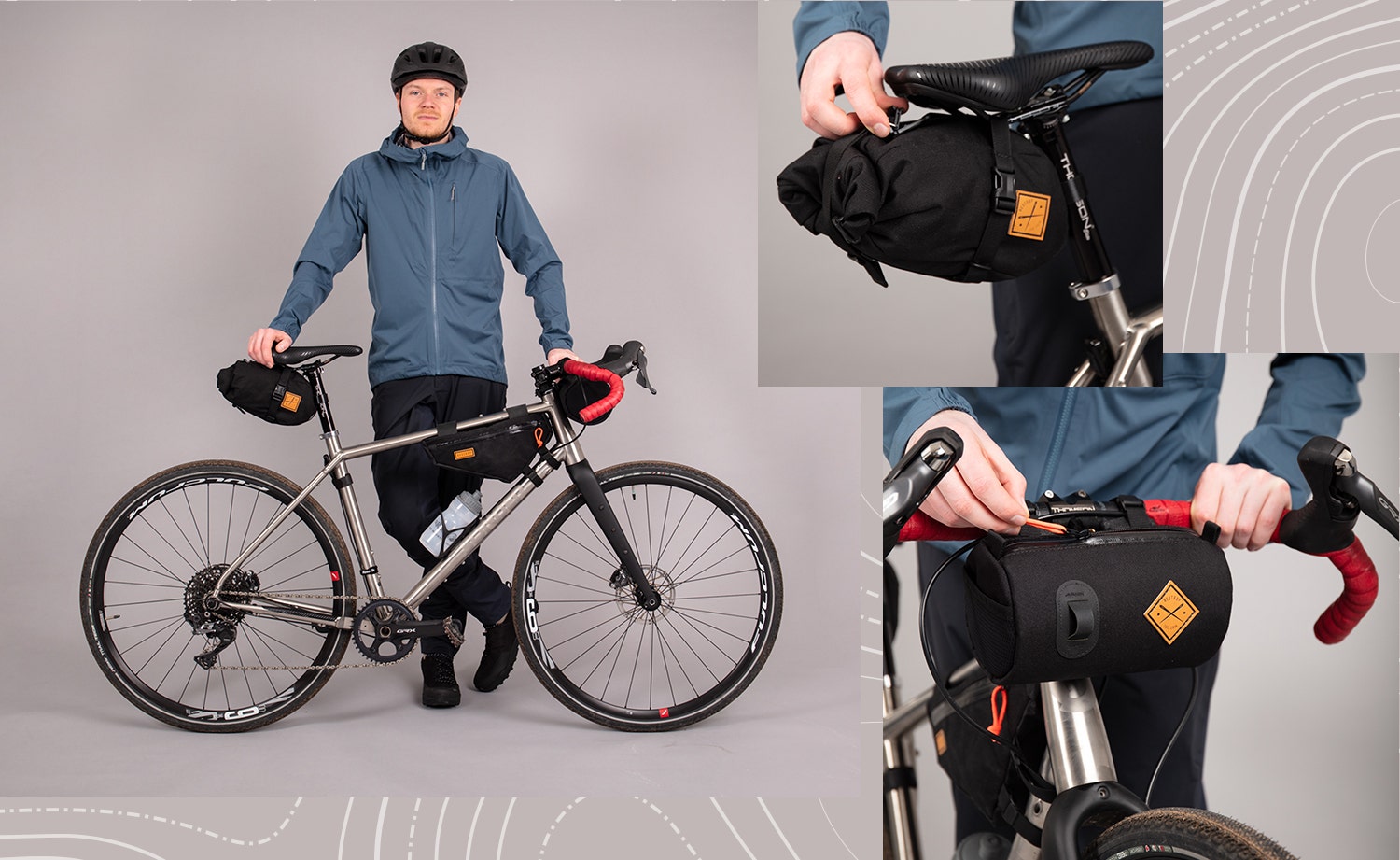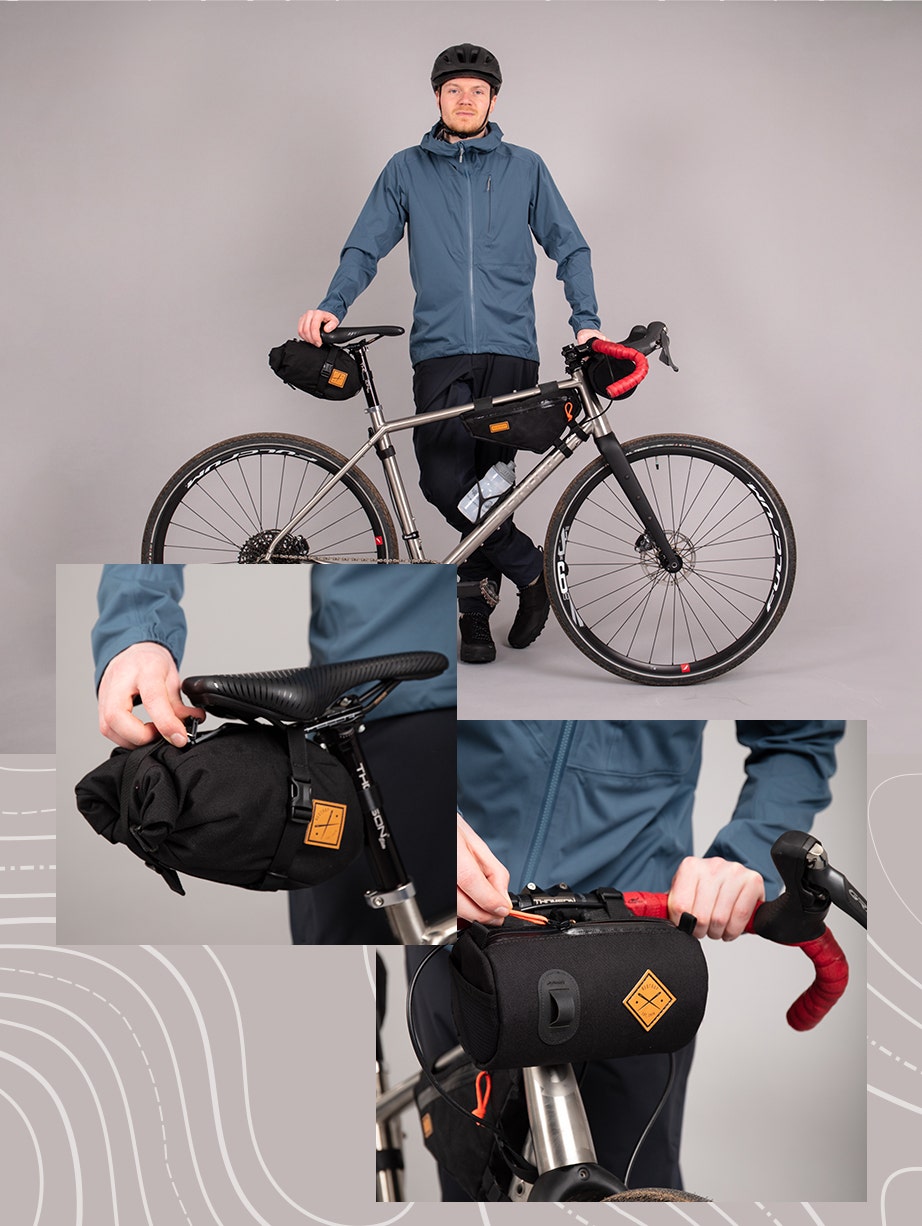 Sometimes all you need to blow off the cobwebs of day-to-day living is a long gravel ride. You may want to enjoy a leisurely gravel ride through your local countryside, complete with a mid-route beer, or test your endurance over a longer distance over 24 hours. 
 
As with any day out on the hills, you need to make sure you are prepared for the weather, so without the extra weight of overnight equipment, your riding setup only needs the volume to hold some lightweight layers, water, your bike tools, and some snacks.  
 
A simple handlebar bag, combined with a smaller saddle bag is often all you need. Each will fit any bike type and offer a low bulk, lightweight, and comfortable solution to wearing a rucksack on day trips.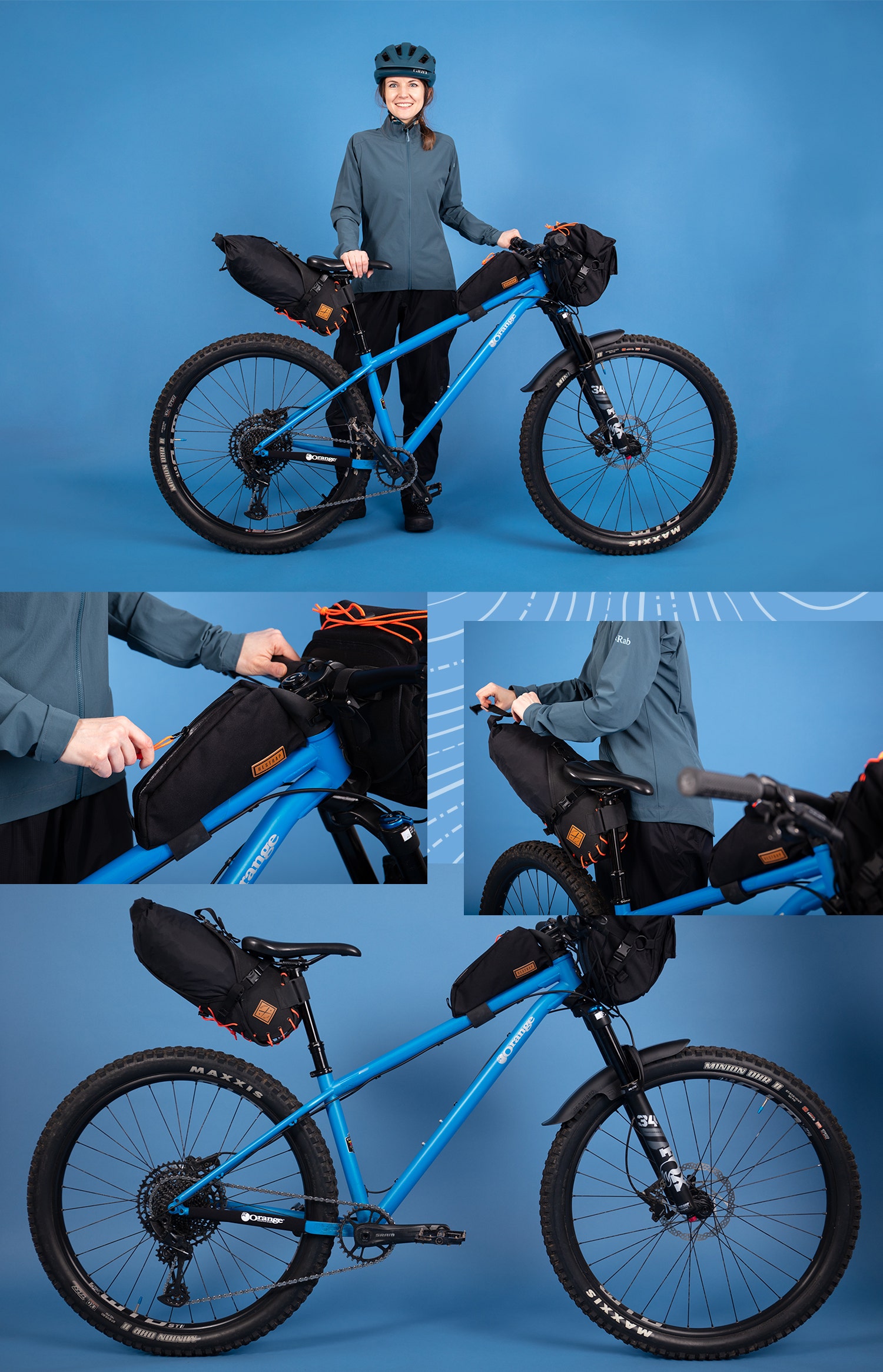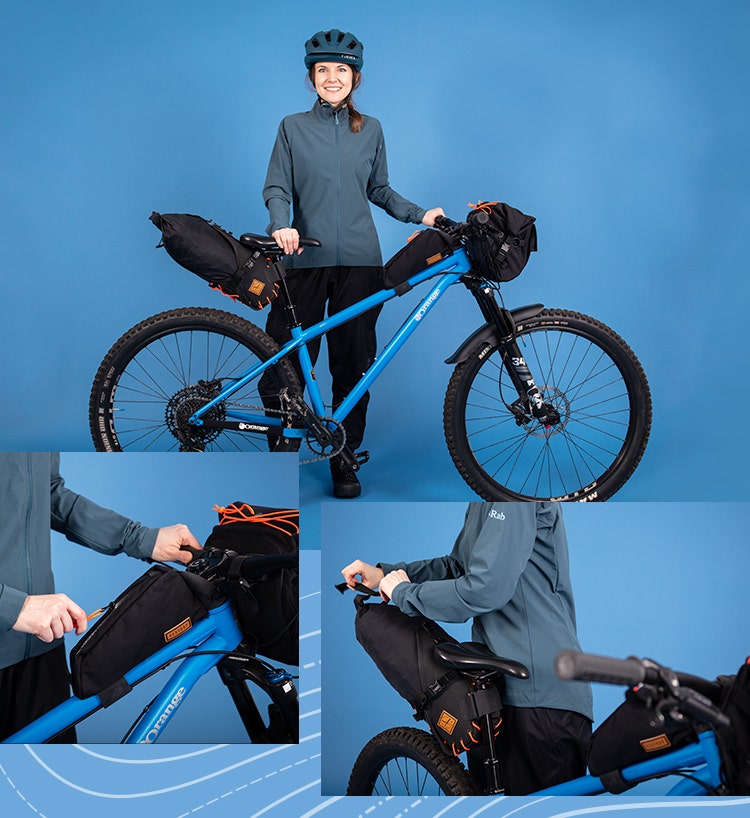 You might not put speed and cycle touring together in the same sentence, but your road bike can be ideal for a weekend tour. Road cyclists will find their bikes can be easily loaded in a lightweight style for overnighters, Audaxes or weekend trips. This setup is also ideal for what is known as 'credit card touring', where you're staying in a hotel or bed and breakfast. 
 
For this touring, you can easily use a small setup with a canister bag, small frame bag, top tube bag and saddle pack. The whole setup has a carrying capacity of up to 15L, and across the four bags, there is enough space to store a change of clothes, bike essentials and food. This lightweight setup is perfect for blasting down trails and staying off the beaten track. 
 
One thing to consider with a full-suspension mountain bike is the rear suspension when using a frame bag. Every frame is different, and it is worth noting that even a small frame bag may be tough to fit in your frame. 
 
If you're running a dropper post, we recommend taping over the area of the seat post where the bag sits, and using a component like this. This will stop the dropper post from fully retracting, preventing any scratches and scuffs on the post.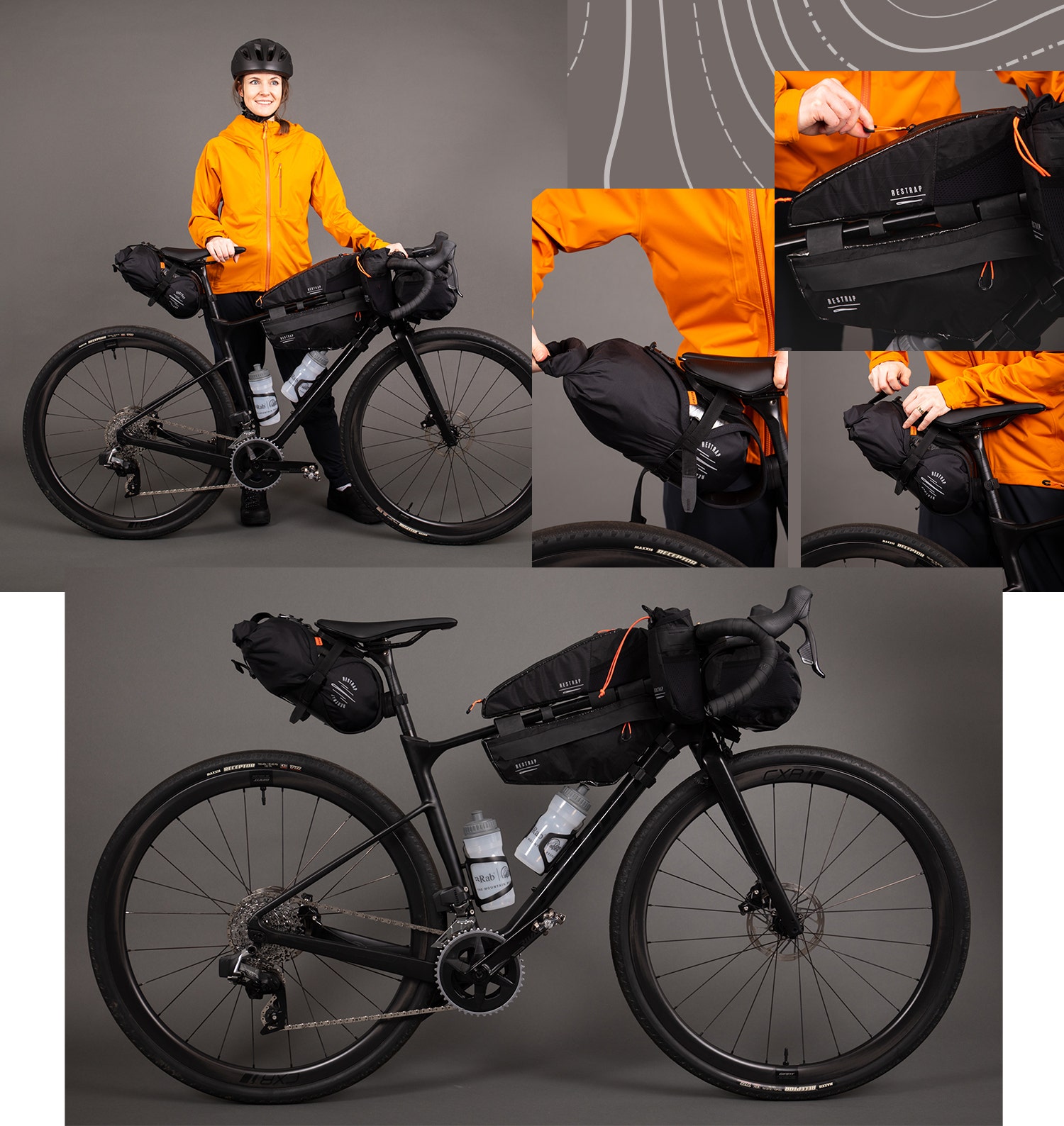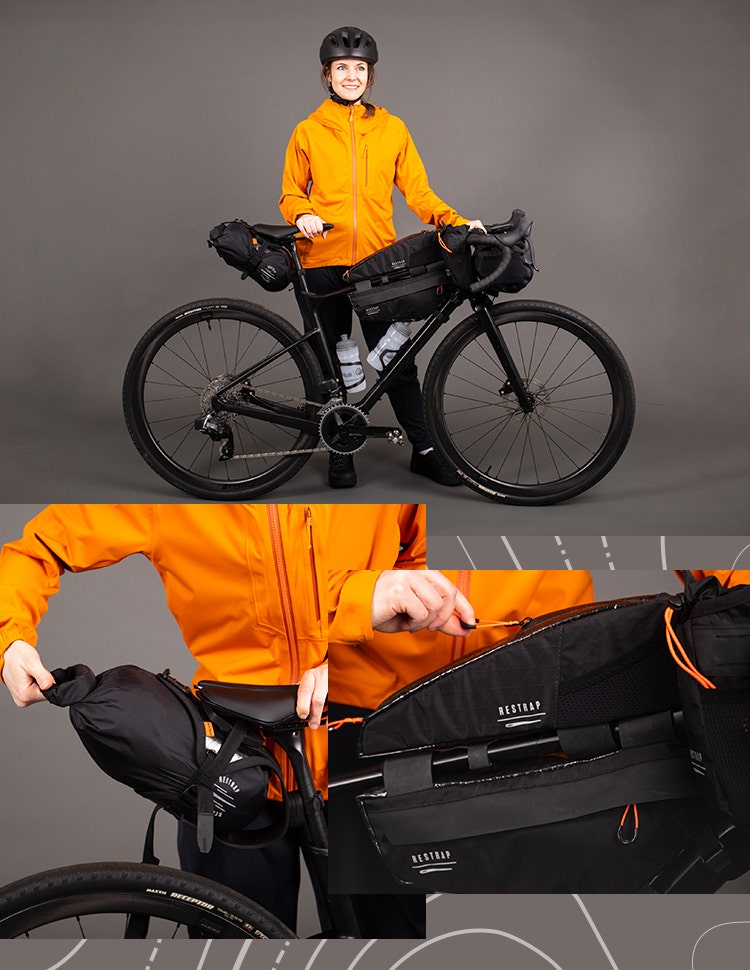 Suppose you want to ride for longer or carry more in the way of creature comforts. In that case, a bikepacking setup is an ideal option. This enables you to stay outdoors longer, ride further, and carry all your essentials on those big cycling adventures.
You can easily kit your bike with a bar bag, small frame bag and saddle bag, and smaller cockpit bags on the handlebars. On most bikes, there is usually more than enough room for a medium or large frame bag for maximum carrying capacity, depending on what frame you use.
Road, gravel, and hardtail mountain bikes are ideally suited to this type of bikepacking. Increasingly, gravel bikes are available with bottle bosses on the fork legs, allowing you to carry more gear on the bike. This gives you more scope to take everything you need to be off grid for extended periods.

Cross Continent Tours and Round-the-World Trips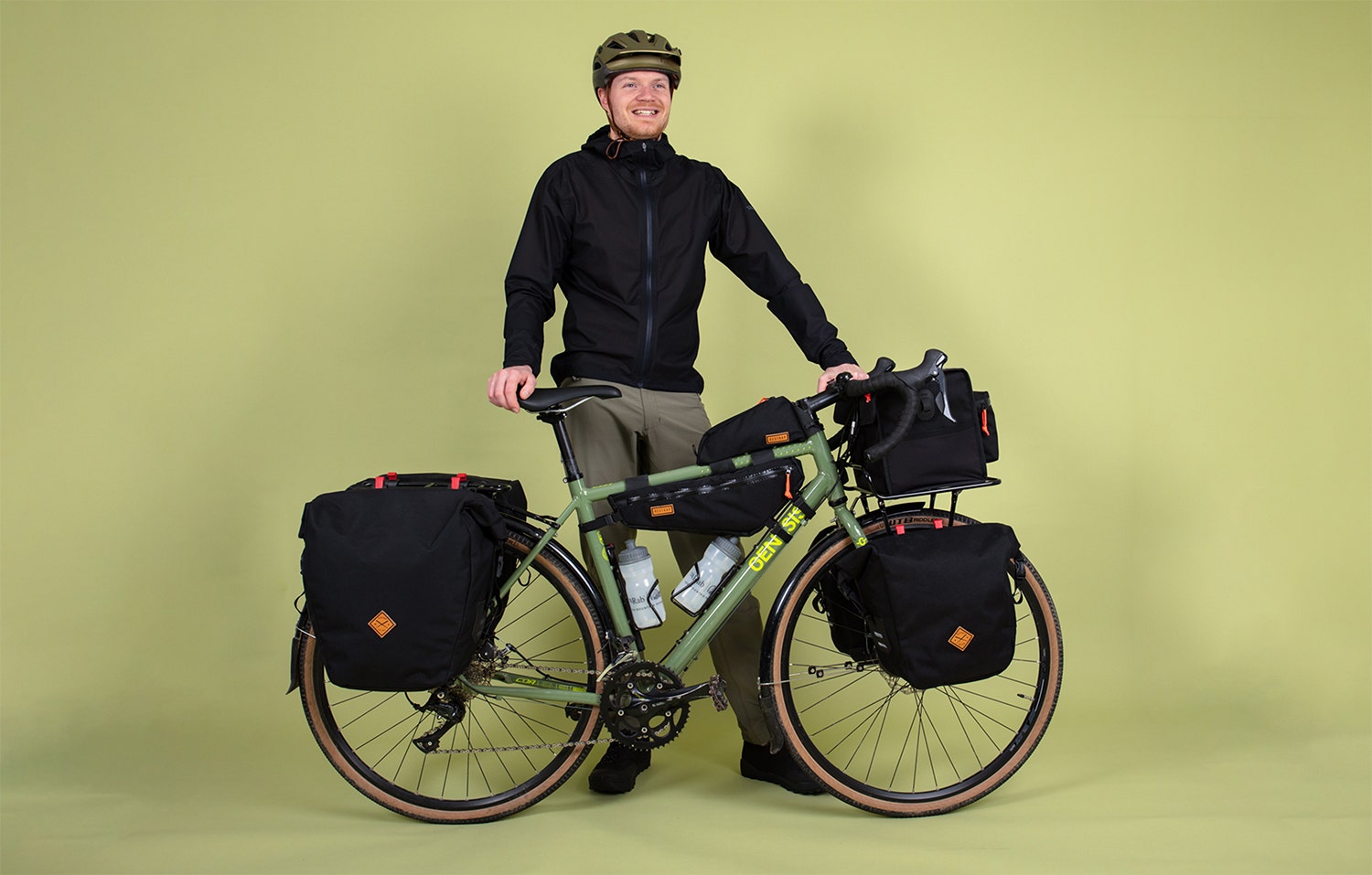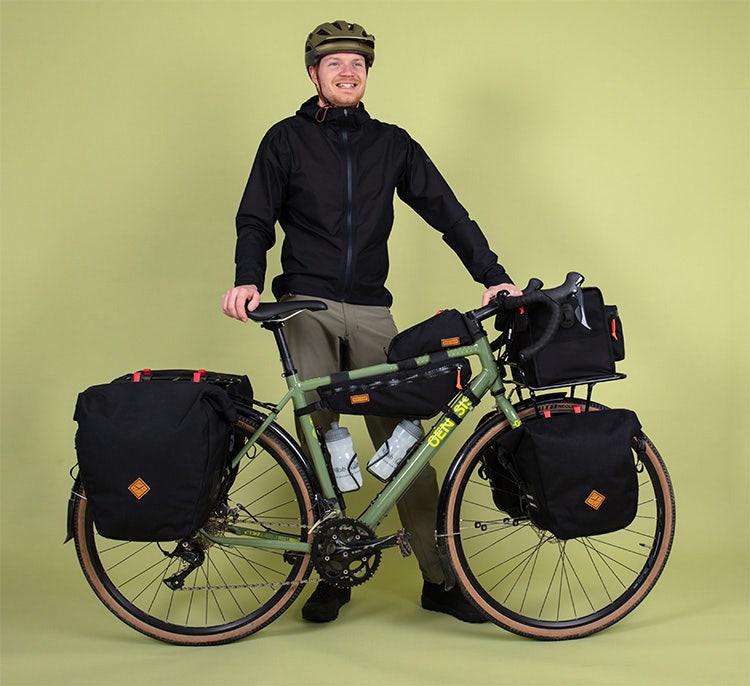 More traditional cycle touring, racks and panniers will allow you to carry everything you need to be fully self-sufficient on your bike, no matter where you are going.
This kind of setup will easily give you 100L or more carrying capacity, with more than enough space to throw in all the kit you need for months and months on the road. With the bags spread around the bike, it is easy to keep things organised. You can even strap dry bags to the top of your racks, protecting your kit from the weather.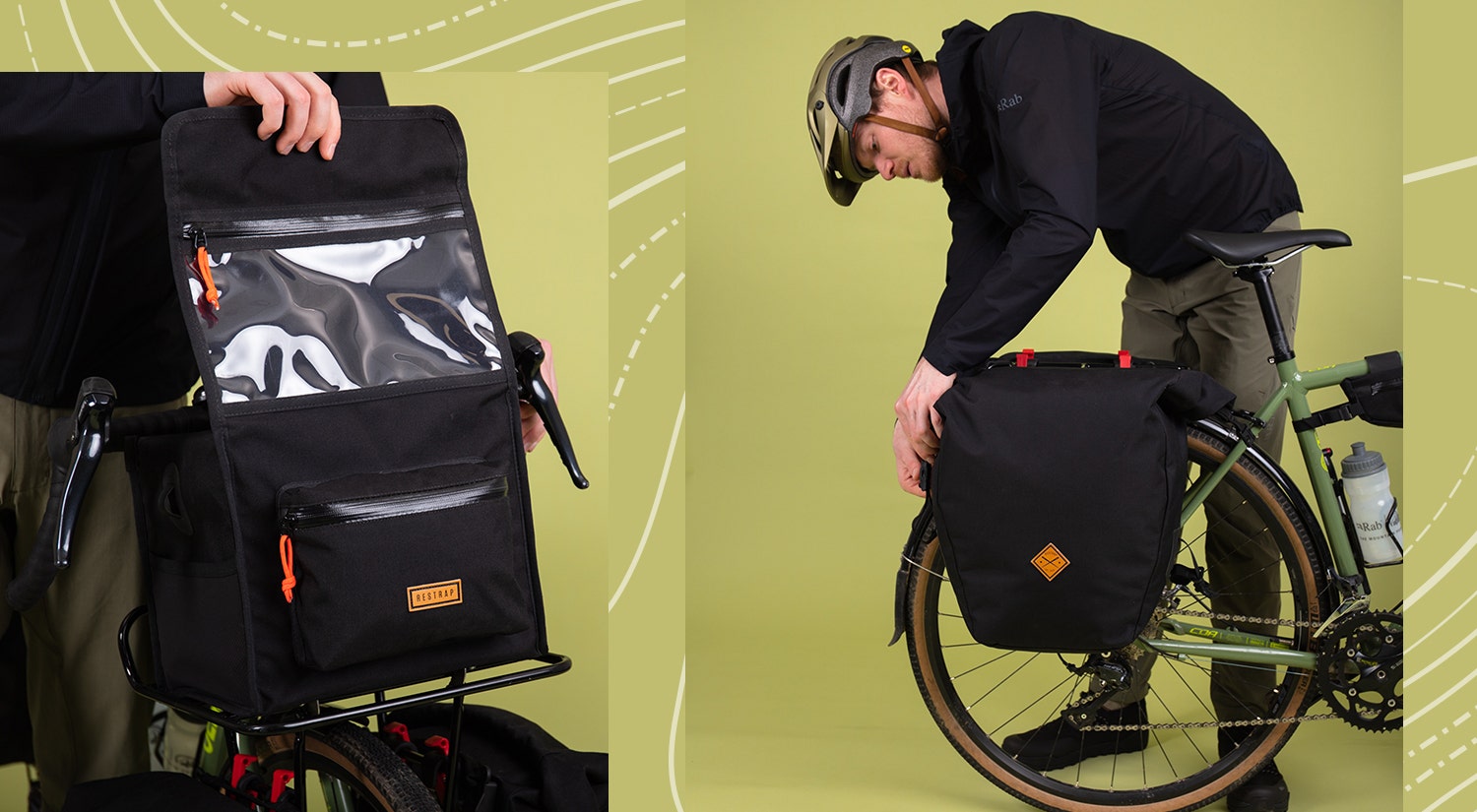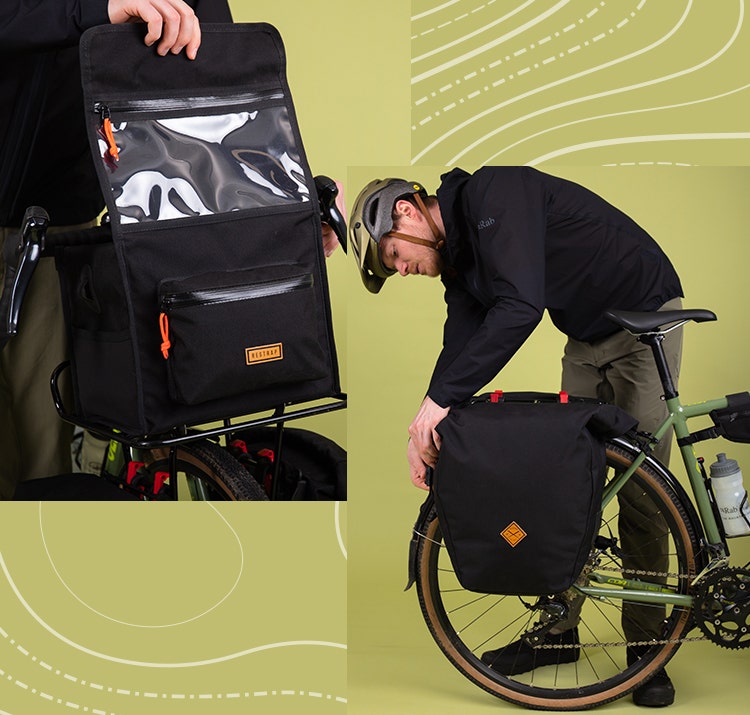 A Overnight essentials Kit List
☑️ Sleeping bag
☑️ Sleeping mat
☑️ Cycling waterproof jacket
☑️ Cycling waterproof trousers/pants
☑️ Bike tools
☑️ Water bottle
Our packing guide can be found here
A general rule of thumb is to split your weight 40/60(rear) when packing your bike up you're your adventure. It can be helpful to consider each of your bags and pockets as sections of your house- for example, one bag for sleeping equipment, one for food and cooking stoves. A fully loaded bike weight distribution breakdown can be found here.
These are our recommendations, which will give you the foundation to build your own adventure biking set-up. If you are tenting it with friends or bivvying in the wilderness, plenty of options are available. So the best thing is to experiment, see what works for you and have fun.
Bike-packing route inspiration
☑️ https://www.rsf.org.uk
☑️ https://www.adventurecycling.org
☑️ https://www.cyclinguk.org/article/10-multi-day-road-tours-uk
☑️ https://en.eurovelo.com
☑️ https://www.gravelunion.cc/gravel-inspiration/inspiration
☑️ https://bikepacking.com/plan/route-planning-guide
☑️ https://www.cyclingabout.com/find-bicycle-touring-companion-bikepacking-partner
☑️ https://rab.equipment/uk/basecamp/reflections-in-the-desert

---
Restrap is a British bikepacking brand based in Leeds, crafting rugged bags and accessories for two wheeled outdoor adventures. Their products are built to withstand tough conditions on long rides, catering to cyclists who love to explore the outdoors.