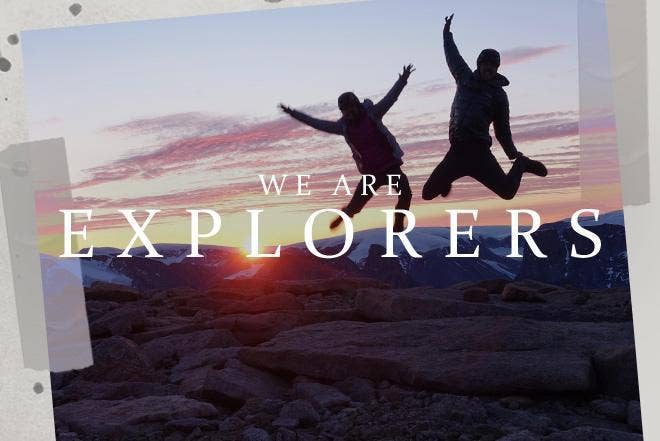 This summer Jacob, Thor, Zack and myself spent six weeks on Baffin Island, in the far northeast corner of Canada and about 200 miles across the Bay from Greenland. While out there we managed to climb some big mountain faces - some new lines and some old - and accessed these mountains by paddling the ocean fjord and glacier-fed river in packrafts. How do I sum up six weeks of adventure in an article? I've put together a series of moments to share:
---
July 3rd: The Ocean Paddle
It's totally calm. The sea is like a pane of turquoise glass; the barren hills on either side are mirrored vividly in the water. I can't believe our luck. I dip my paddle and it sends ripples across the glassy surface. I pause, marvelling at our speed as we drift past boulders strewn along the shore. The tide is rising, and we are riding it up the fjord toward the mountains.
We'd been warned of the ruthless arctic winds that often blast through the Inuit community at the mouth of the fjord. Up to 100mph some days, the locals had told us. I'd been worried about ice too. We were early in the season, what if the sea-ice break up came late? The sun beams down on us, I can feel the warmth on my cheeks; I'm smiling. There's no ice in sight. My eye catches a shiny black dot to our right. I turn my head as more of them pop up… two, three… eight seals! They swim alongside our packrafts for over an hour, playfully diving in and out of sight.
The four us - Jacob, Thor, Zack and myself - have been planning and preparing this trip for over a year. And now we are finally here, it's really happening!
July 7th: The Slog
We hike in the cold, unrelenting rain. The pack on my back weighs more than I do. The winds are coming in strong from the north, bringing the miserable weather. Our feet are numb from the numerous icy stream crossings. We trudge on. Faces to the wind, we bend our heads and bury our noses into our jackets. The mountains grow taller as the valley closes in around us. Silently I count steps to my next resting spot.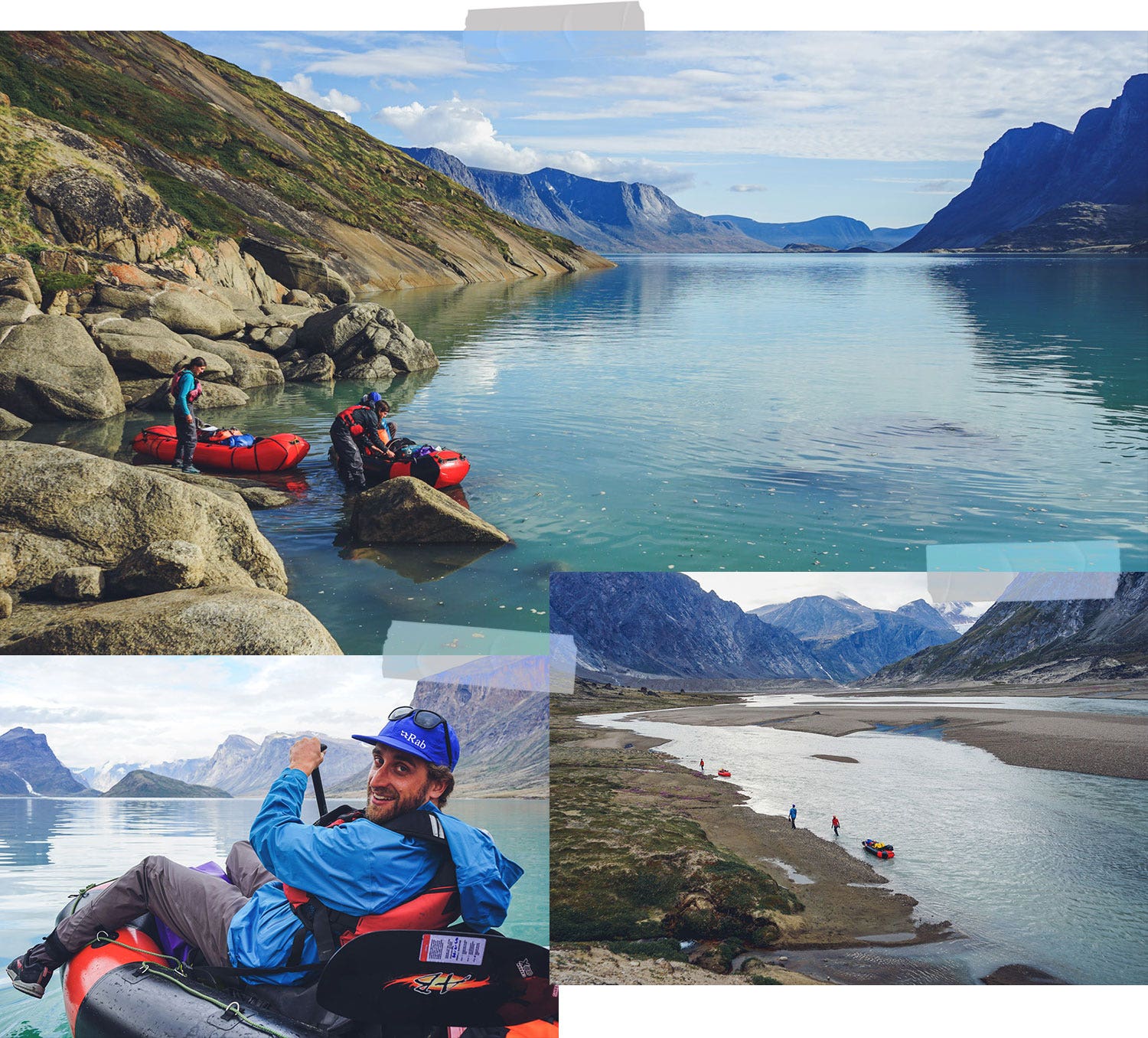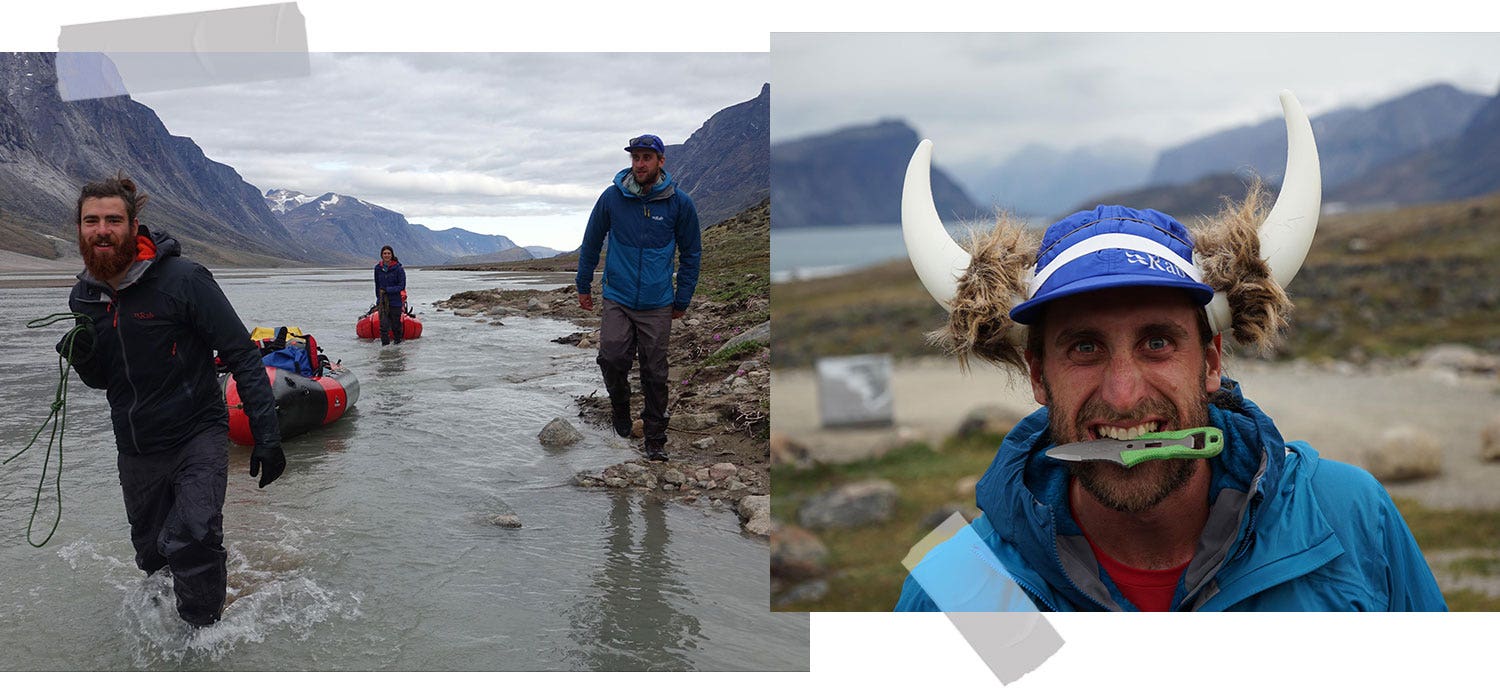 July 9th: South Tower of Asgard
I love crack climbing - flowing move after move, jamming my hands and feet into the rock, feeling slight variations in the width of the crack and adjusting my technique fluidly to find jams that fit. This pitch is exactly that: 60m of perfect crack splitting the golden granite wall above us. Jacob and I are halfway up the South Tower of Mount Asgard, following our noses up a new line on the south face. We'd been planning this trip for nearly a year, obsessively studying photos of this mountain. The sky is blue bird, I can't believe where I am right now!
We join into a corner system. A few pitches later Jacob arrives at a dripping, icy chimney… Instead of wedging his body into the vertical ice chasm, he quests onto the face, crimping his way up the sparsely protectable clean rock. The rope comes tight at 60m and I radio up for him to put me on belay. I pull over a bulge and look up. Double ropes are billowing above me, no gear in sight. "What the heck?" I radio, "Where do I go!?" After that we return to the corner and shimmy our way ever skyward.
At exactly midnight we pull over the final lip to stand on the flat summit of Asgard's South Tower. Shivering slightly we both pull on our second puffy jackets. Despite the cold, there's not a breath of wind. We stand still. It feels like we've landed on another planet. Nothing lives here. Only big flat boulders set off-kilter as if placed by a giant hand. We watch the sun dip below the mountainous horizon, covering us in a purple dusk for a few minutes. Then the fiery golden ball rises again, casting a new light on our little flat planet, while the icy world far below us remains in shadow.
Time to move, or else we'll get cold. We eat our few remaining bars, and then set up for rappel. We've got a long way to go. As I rap over the lip, I hear whoops and shouts! I turn to see our friends, Zack and Thor, a pitch below the summit of the North Tower. We cheer and whoop back. For a moment everything feels a lot smaller, less scary. At that moment it's all just fun and games, hanging out in the mountains with friends!
After 20 hours continuously on the move, Jacob and I stumble back to our little camp on the glacier. Thor and Zack arrive three hours later.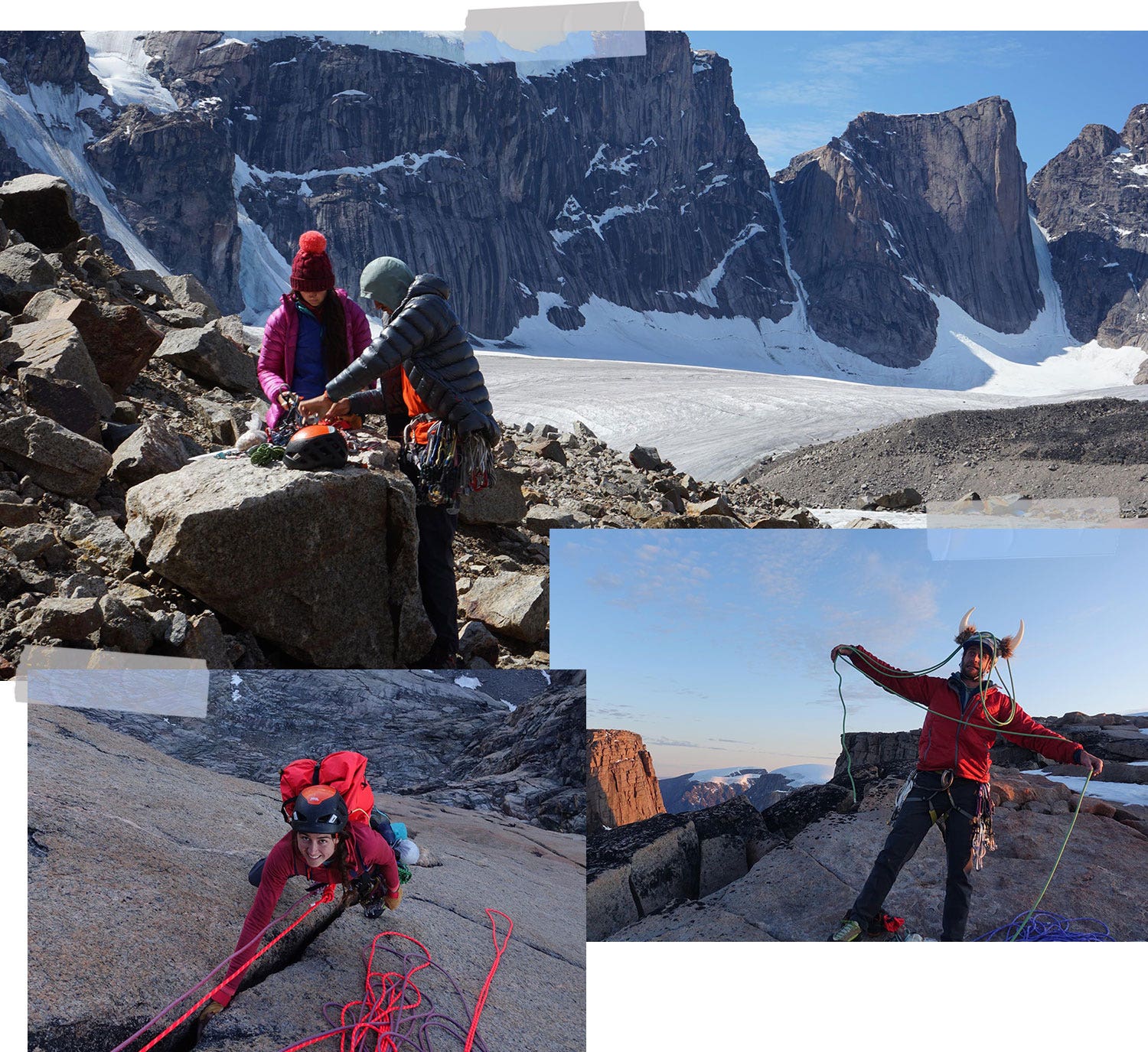 July 14th: The North Tower
I breathe heavily as we race up the rock. I throw my hands and feet down wherever they land - there's no time to choose specific holds - and propel my body upwards, always chasing the tug of the rope, chasing Jacob who charges on above me. I know how Jacob is feeling. He's ecstatic to be moving over rock; the comfortable familiarity of the granite masks all fears of the unpredictable melting landscape, as we leave it further and further below us.
He climbs 60m, plugs a piece with a traction device to protect him if I should fall, and then charges on. Another 60m, another single piece with a traction. My calves are burning. I'm starting to sweat through my merino wool. I feel like I'm midway through a foot race, not midway up Mount Asgard! We're on the Scott-Henneck Route (est. 1972), a full 1000m on the east face of Asgard's North Tower. Finally Jacob stops to belay, I catch him and pause to gulp down some water, only to realize that I had forgotten to re-fill at the base. I lead the next simul-block up to the steepening headwall. We start pitched climbing here, it feels like a snail's pace.
Jacob pulls onto a big ledge and stares up disheartened at yet another dripping chimney. I catch up and he's already filled his water bottle, I fill mine too. Earlier in the day, I'd offered to lead the chimney pitch, the technical crux of the route. I look up in dismay at the water streaming down inside. Jacob offers to investigate a crack to our right, it turns out to be a sweet finger splitter! I follow, desperately stabbing between finger locks. I'm getting tired. I start inching my way up the next pitch, an offwidth. I've slowed to nearly a halt. I get stumped at a sopping short roof until my arms fail and I slump onto the rope. Exhausted, I aid through the move and then carry on to the top of the pitch.
At midnight we stand atop the North Tower. Again it's totally calm, totally silent. And cold, colder than the other night. Again we watch the beautiful sunset/sunrise - we're ready this time and capture the moment with our camera. After 18 hours, we stumble across the glacier into camp. We have Zack and Thor on the radio. We can see them, little orange specks on the summit of a previously unclimbed peak directly across from our tents. We're discussing their descent.
I've known Zack and Thor my whole life. They are two of my closest friends. Coming on this trip, they didn't have huge climbing resumes, but we knew they were incredibly hard-working and would embrace any challenge with their unrelenting positive attitudes. Thor has been climbing for about five years and Zack for only three. I introduced both of them to climbing; I brought them on their first multi-pitches. I can't help but feel a sense of pride seeing those guys put up a first ascent out here, it's rad!
They decide to rap the face, retracing the way they came. Jacob and I look up nervously at the huge swathe of granite. But we trust them. They'll be fine. We continue with our bi-hourly check-ins as they descend. After 27 hours they stumble wide-eyed into camp. Jacob gets out of our tent to greet them; I roll over and fall into a deep sleep. The midday sun shines brightly on our camp, the tent is warm and cozy.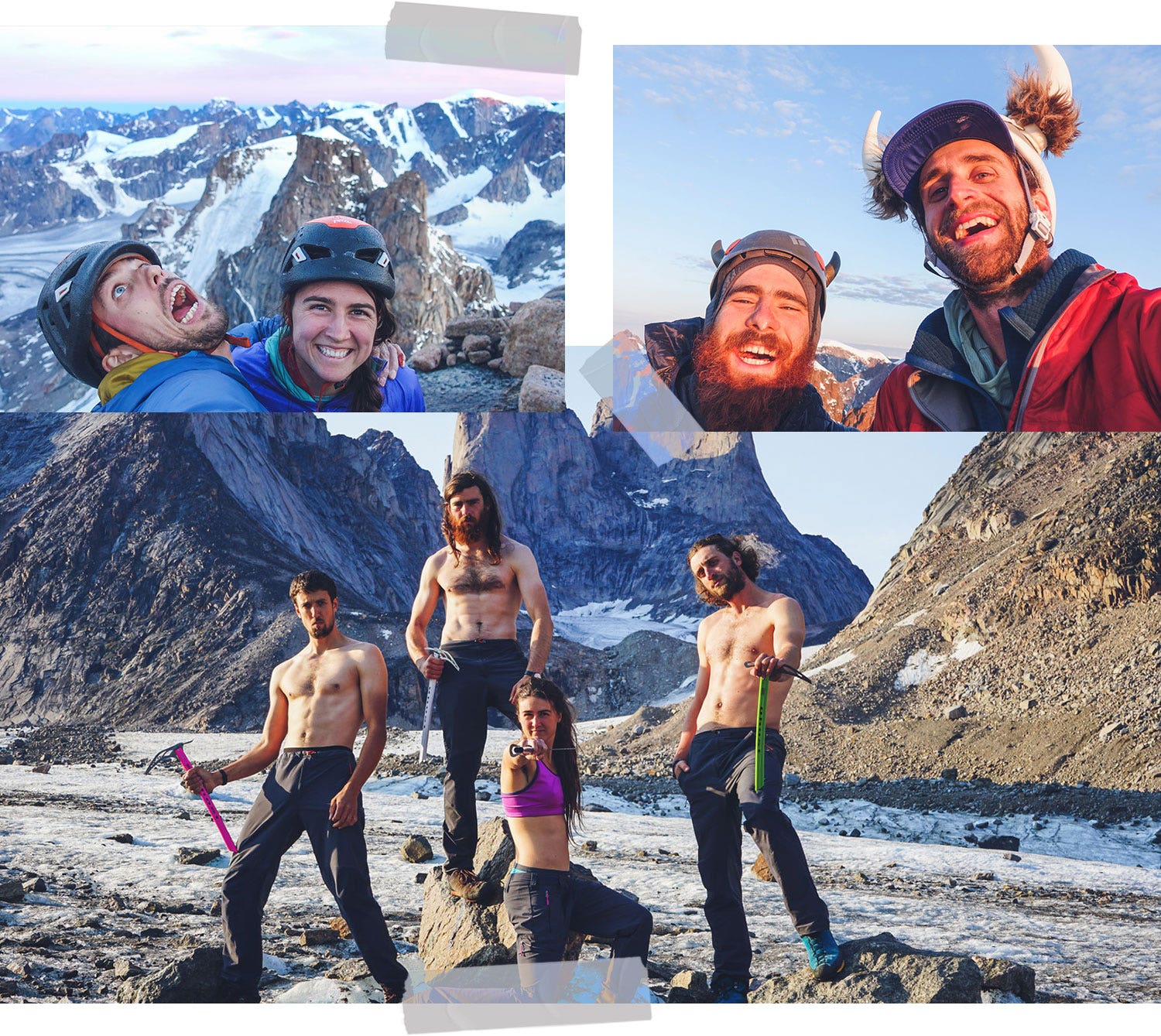 July 16th: Much Needed Rest
The rain patters against our tent. Jacob and I lie cozily in our sleeping bags. Neither of us wants to get up, and that's just fine. We lie there; half sleeping, half chatting.
So far our trip has been a whirlwind of non-stop intensity. Two weeks after landing on Baffin Island and we've already climbed both towers of Asgard! But I need a rest. My body aches and my mind is fatigued from endless risk assessment.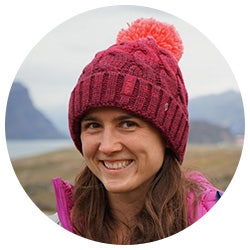 Words by | Bronwyn Hodgins
Originally published Winter 2019