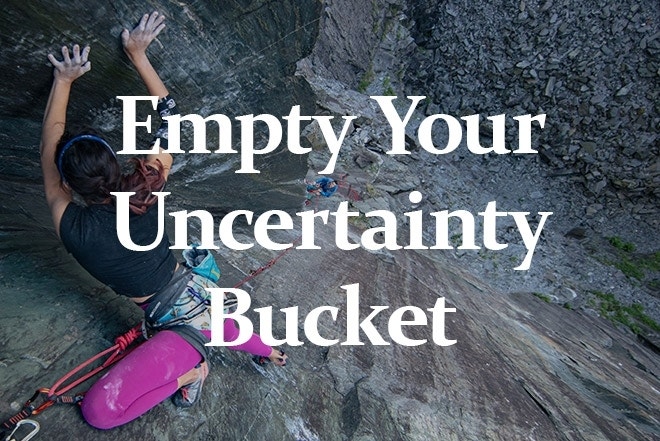 I can't tell you how many times local climbers have twisted their faces at me, wondering how it is that I've ended up in the UK.
So, what in the world is this California girl doing here, of all places?
I met Tom Randall at the very beginning of my trad climbing journey. The plan was to film a few videos of him teaching me how to crack climb, and then I would set off on my travels again. But our energy collided and exploded as we climbed together for what must've been 10 hours straight before deciding that our unlikely partnership was bound for bigger things than just a few YouTube videos.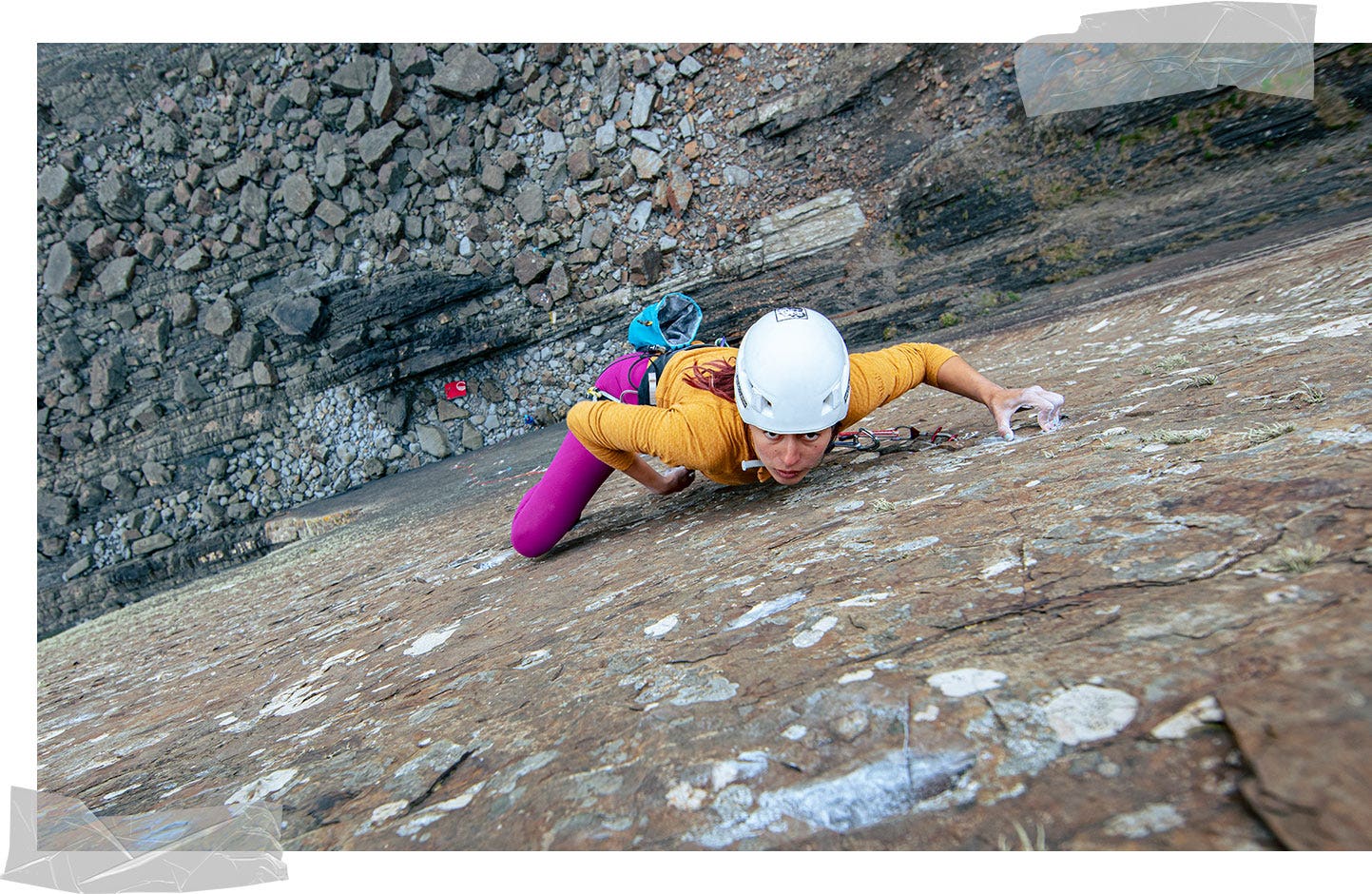 After sending Once Upon a Time last year with Tom, I knew that I would be back in the UK as soon as possible. I sat on the sofa at my parent's house in California, still dazed from jet lag, leaving Tom multiple voice messages about what projects we should climb when I came back. We quickly set our sights on two improbably difficult and intimidating objectives: the Walk of Life, the more difficult and bolder climb to the right of Once, and Quarryman, a slate multipitch with Johnny Dawes's infamous "groove" corner, in a single day push.
It was spring when I knocked on Tom's door again, all my bags and belongings sliding uncomfortably down my shoulders. Almost immediately, we headed to the slate quarries in north Wales for a reconnaissance mission of the Quarryman. Tom isn't exactly great at easing me into settings, so naturally, the first day I'd ever climbed on slate, we went to the groove pitch.
Initial thoughts? Highly improbable. The awkward chimney pitch immediately cast doubt in my mind, but hopeful curiosity and the sheer novelty of it all kept me returning to the line, weekend after weekend.
Tom was certain that the groove pitch was just a matter of time spent on the wall, so our project days circulated around shoving our bodies into this corner, aiming to fall upwards more and more gracefully with each passing attempt. But I began to feel disillusioned; multiple sessions on the groove passed by and I still hadn't made significant progress. I had, however, bruised my entire spine, lower back, and the backs of both arms. I had also cut up my left bicep from death gripping the outer edge of the corner, and I had tweaked both my right calf and hip.
I struggled up the groove as Tom continued to make significant links. He felt ready to lead it, while I felt ready to give up. One session I deflated next to him as patches of blood, chalk, and shoe rubber decorated my face. I tried to say something positive like, 'at least I'm getting more time on the climb!' but instead, all that came out was, 'that was brutal' as I erupted into tears.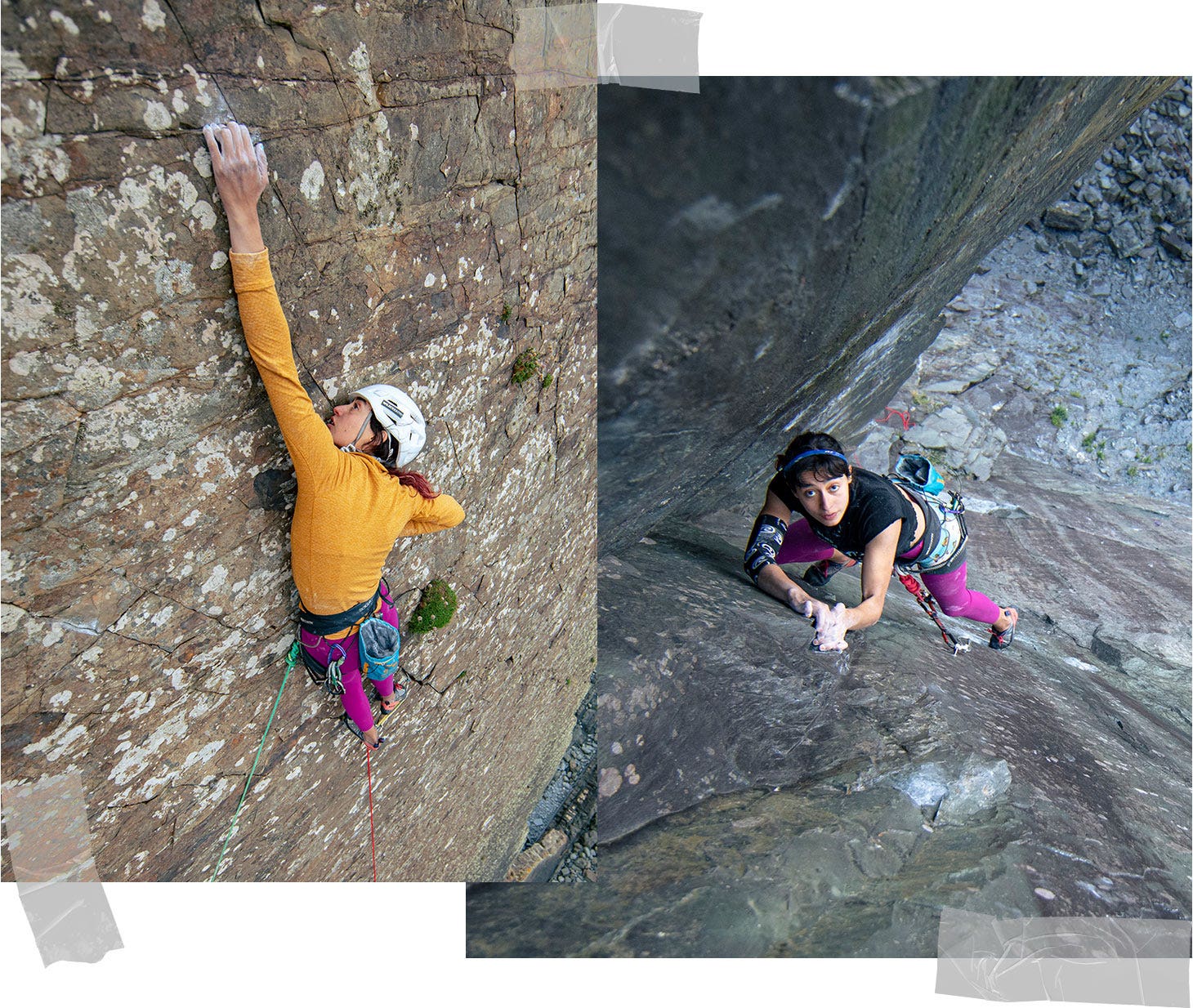 We took a small break from the quarries to sleuth out our second objective, the Walk of Life (WoL). I had fallen in love with the Southwest on my previous UK adventure, and both of us felt it would be a nice change of pace. Throwing a static on WoL felt like coming home. In sharp contrast to the discomfort and unfamiliarity of rapping into Twll Mawr (the "big hole" where the Quarryman is located), lowering off the top of the sea cliff at Dyers was catharsis. The first thing I did was turn myself completely upside down on the rope. I admired the once intimidating line of jagged rocks and unrelenting ocean as I stared straight down the face, and whooped as loud as I could manage before laughing so hard I had to twist myself upright again.
We spent the weekend bouncing between holds on the climb, chalking up and pulling on edges that may or may not fall off, and I knew at that moment that WoL was inevitable. I mentioned multiple times to Tom that we could sack off the quarries and just come here – we can both do this one! Let's just stay! But Tom, more optimistic and tenacious than I about our grand plan, said not to worry – that we could still do both. I really didn't believe him at the time, but I was never going to admit that, so I nodded and agreed even though I thought it was a sure way to do neither climb before I left.
Tom had a conference to go to, so I spent a week without him projecting WoL. I focused on memorizing and discovering the hundreds of movements and the much fewer gear placements on the 50-meter slab.
I grew increasingly nervous as the project days ticked by; WoL was coming together faster than I had anticipated! I called Tom nearly in disbelief, asking him to bring his micros and any other gear that might be useful when he came to meet me (lots of .1's Tom, every single red you can get your hands on!). I couldn't quite wrap my head around it, but I was feeling ready to lead.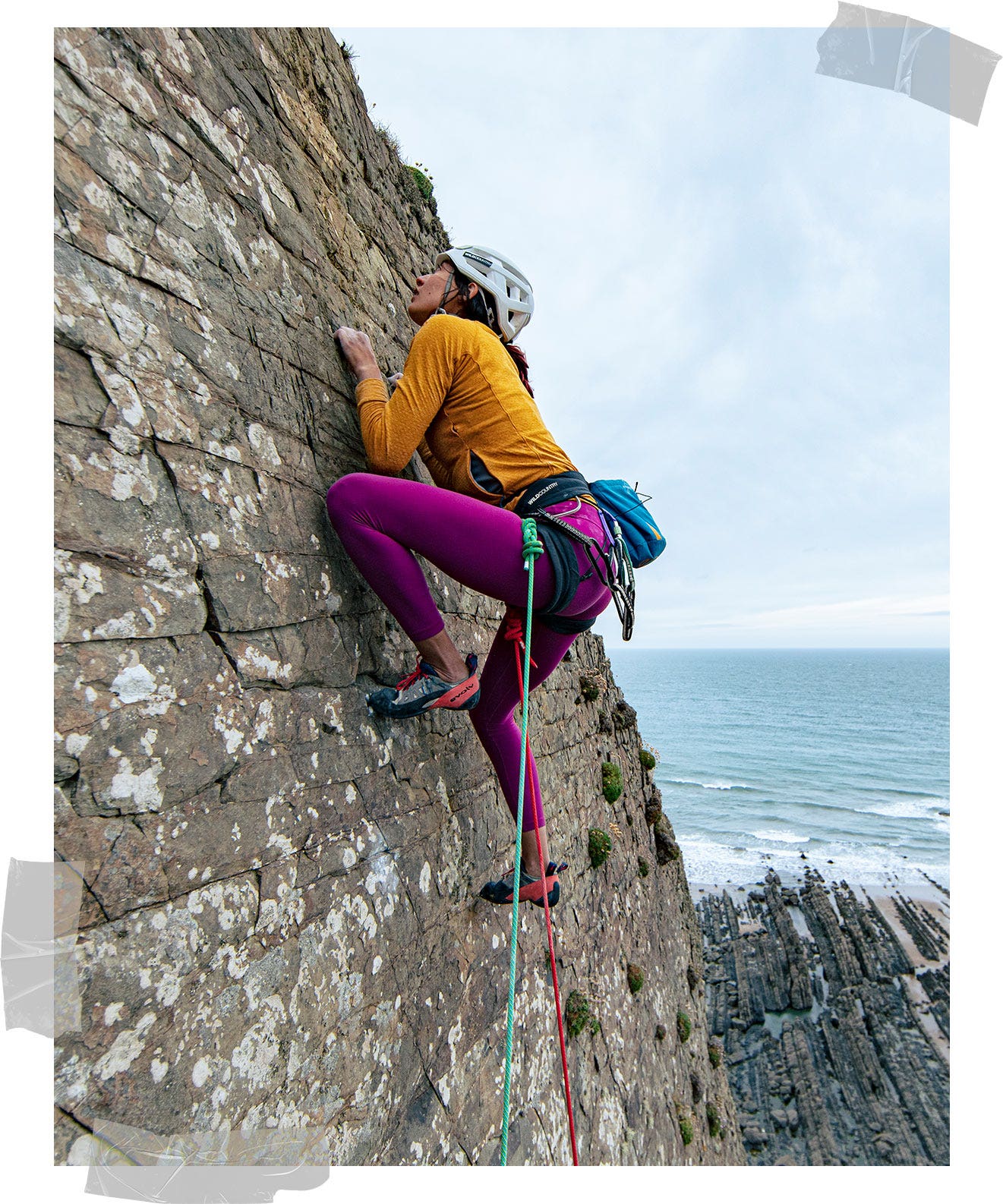 To keep things as cinematically dramatic as possible, I waited until our final day in Dyers for my lead attempt. I woke up that morning feeling calmer and more confident than, well, I had felt about anything before. I didn't dare say it out loud, but that morning I knew I was going to send the route.
There was a single move on the climb that had been causing me grief throughout the week: it was a reach that maxed out my wingspan, about 10 meters up, without any solid protection below. On my last top rope practice, I paused and closed my eyes here. I tried to capture in my mind how the hold felt when I latched it right. I took note of the exact amount of pressure I was pushing through my arms and legs, the level of serenity in my mind when I leaned over to get one, two, and then three fingers on the micro edge. I told myself that if I just replicated this feeling on the lead, I'd take it to the top.
The bold start was nerve-wracking for everyone. I later asked Tom how he felt when I set off, and he told me that of course he was nervous, probably more nervous than I was. I took a deep breath, and reached. The first, second, and then the third finger popped on the crimp, exactly as they needed to. I hung from my tendons and pressed into the micro foot crystals. A single breath, and I had climbed past my personal crux. After this, I entered a complete flow state. I let myself be present and thoroughly enjoy the climbing all the way to the top.
But our season wasn't over yet!
It was time to get serious. Before we knew it, we had arrived at our final week of climbing together. Wait, did I say serious? Tom brought his costumes to the quarries, rendering it impossible to be serious. Him, a princess cowboy, and me, a banana, we were ready to take on the unrelenting groove in comedic style.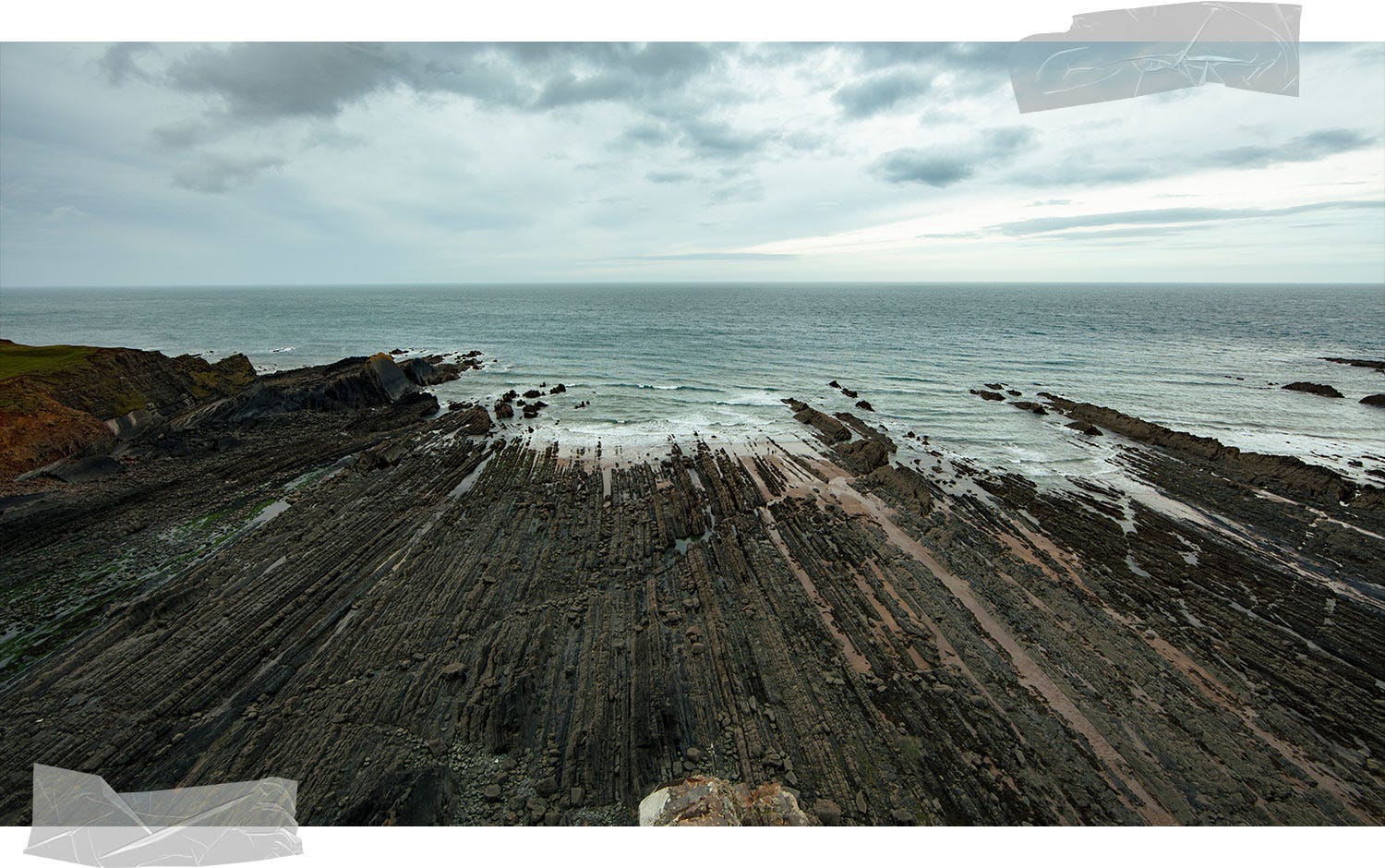 It wasn't until two days before our final push that suddenly my body understood how to dance up the corner. In my mind, I was just trying to make it from one clip to the next, willing my feet to stop slipping down the glassy, frictionless face. When I mantled over the top without falling, I couldn't help but shout and cry in happiness. Maybe, just maybe, we could pull this off together.
Again, for a most sensational season finale, Tom and I waited until our last day together to go for it. We still hadn't sent all the pitches, but my mentality had completely shifted. Tom dubbed it the uncertainty bucket, and said that mine had clearly been overflowing all week. That is, until I managed to successfully lead the groove pitch two days before. My mood switched from unconfident and terrified to excited and ready. There was still plenty of uncertainty, but now I felt like we had a chance. Regardless of the outcome, I knew we would have a damn good time giving it our all. I went into the day fully prepared to push myself through the bold runouts, support the hell out of Tom, and if need be, insist that he go ahead if I couldn't manage a pitch.
Because we wanted to ensure we had enough time to complete the four pitches before nightfall, we started earlier than usual. The rock was still hot from the sun, the humidity was high, and the added nerves didn't help. Tom and I expressed similar experiences on pitch one of slipping around in our sweaty shoes while doubling down on the greasy crimps to compensate. It felt desperate to me, and I honestly couldn't believe it when I successfully topped out. Pitch two was smooth sailing for me, but Tom froze up for a few moments before continuing on to the base of the groove. I of course made fun of Tom relentlessly for finding the easiest, shortest pitch the hardest. Then came the moment of truth: the groove.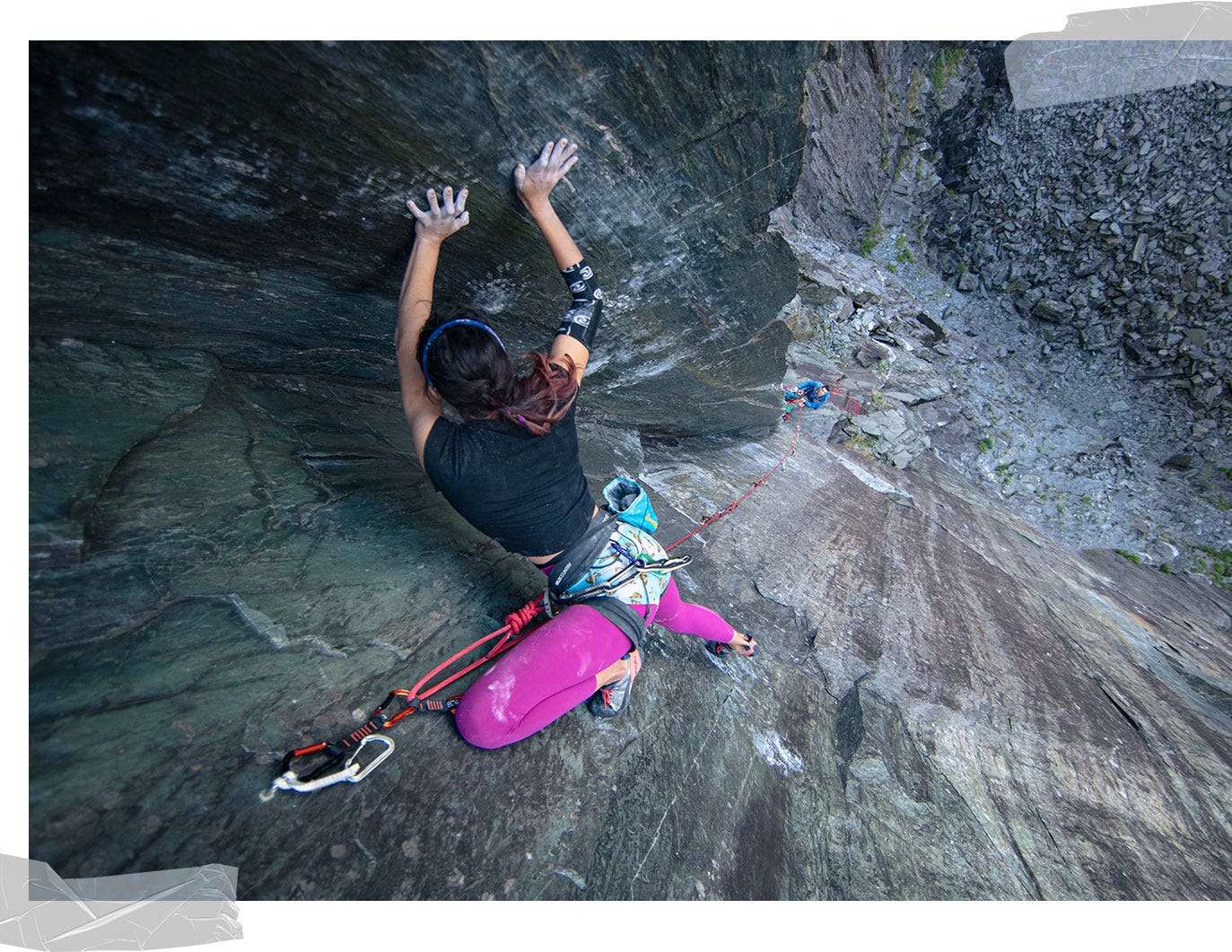 The temperature and humidity must have dropped, because to my surprise, I felt sticky. My feet stayed planted with each placement, and I decidedly made my way up the corner. Without hesitation, I pressed out each move with the level of confidence I had felt on WoL. Reaching the final ledge, I was as relieved as I was out of breath!
Third jump second jumper: Tom was tied in and determined. Hilariously, I later found out that I totally sandbagged him by yelling 'IT'S SO STICKY' at the top, because maybe it was just me who was sticky. But sure enough, Tom worked his way up, using completely different beta to mine which I found amusing, and arrived at the stemming section. This was his crux. I held my breath as he campused his feet to his hands. He shuffled his way up to a standing position, and secured the jug.
Tom and I bear-hugged each other at the top of the groove; we were determined to make it now. We had practiced falling on pitch four earlier; Tom knew it would make a difference because the crux move was a bit higher above the last bolt than we would have appreciated. Feeling grateful we had rehearsed the insecure feeling of being at the crux, I pulled through the final boulder move, onto the remaining runout, and practically ran up the wall to the chains! Tom swiftly followed me up, and a rush of warmth and happiness overcame us both as he mantled over the fourth and final pitch, both of us managing to climb ground up without a single fall.
We sat at the top while the sky faded from dark blue to black, munching on our burritos in content silence. I looked over at Tom, overwhelmed and overjoyed and exhausted, but mostly grateful for our unexpected friendship. A smile spread across my face:
'So, what's next?'
Large subhead (32px text, 38px line height)
Small subhead (20px text, 28px line height)
Quote style, bold, italic, 20px over 28px
Words by | Anna Hazlett
Images by | Alistair Lee
Words & images by | Athlete Name