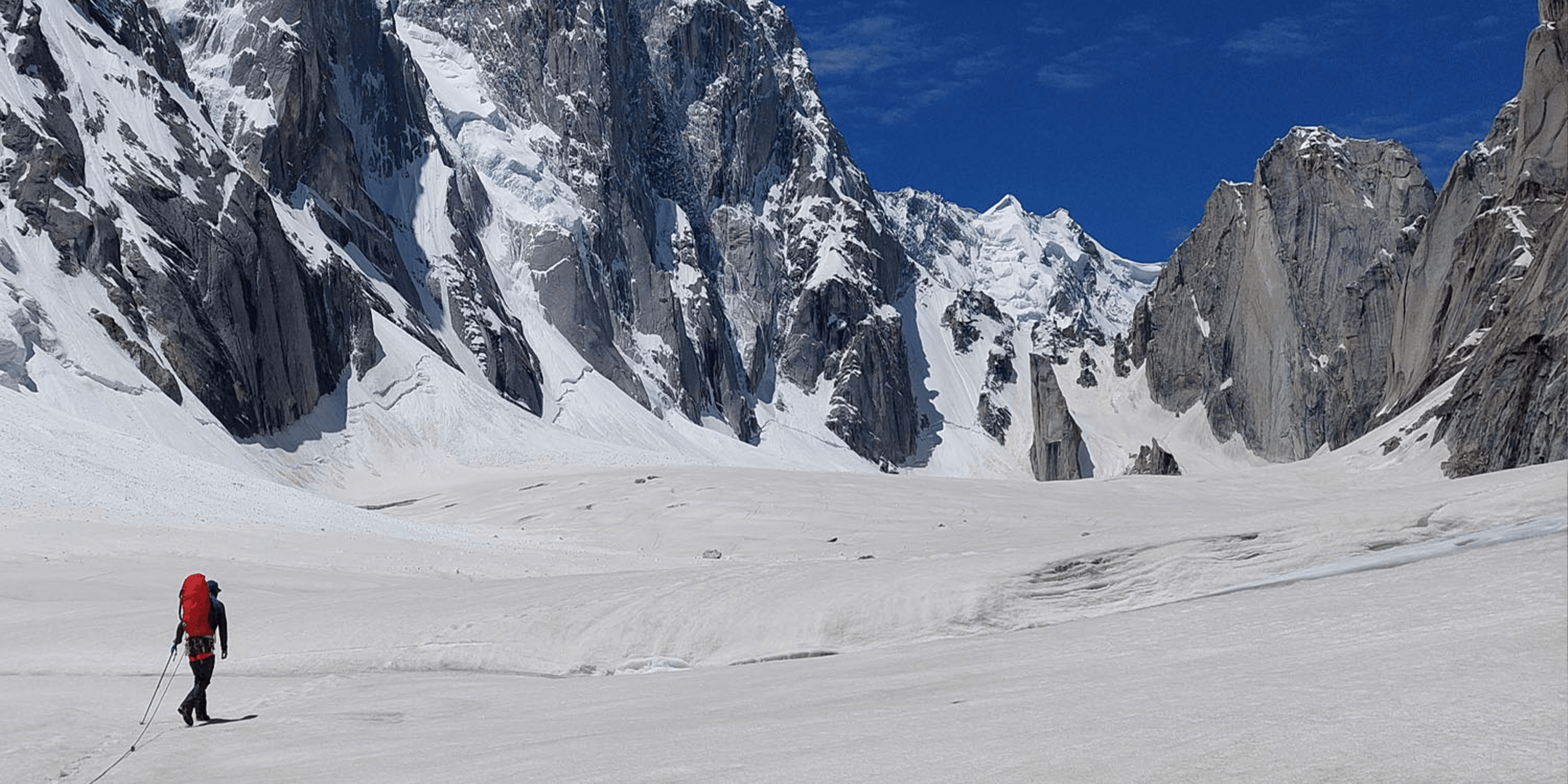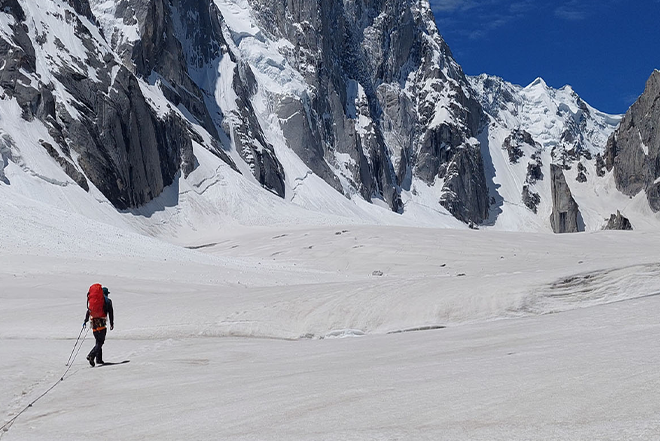 I wasn't sure if we were sitting in a tent on a glacier at 5700 meters, deep in the Eastern Karakoram or in a Finnish sauna. The temperature was infernally hot inside and even more torturing outside, in the direct sunlight.
We were middle of some the wildest mountains on our planet. Most of them were unclimbed and untouched. Patagonian like granite rock towers surrounded deep and dusty valleys before it all changed to steep and icy alpine peaks. On the horizon, snowy 8000m peaks were guarding their kingdom.
Still, I was so ready to switch high mountains to endless greenery of the lushy Lofoten islands. Life would be so much easier, cooler and cloudier in a few weeks. That would be paradise on Earth!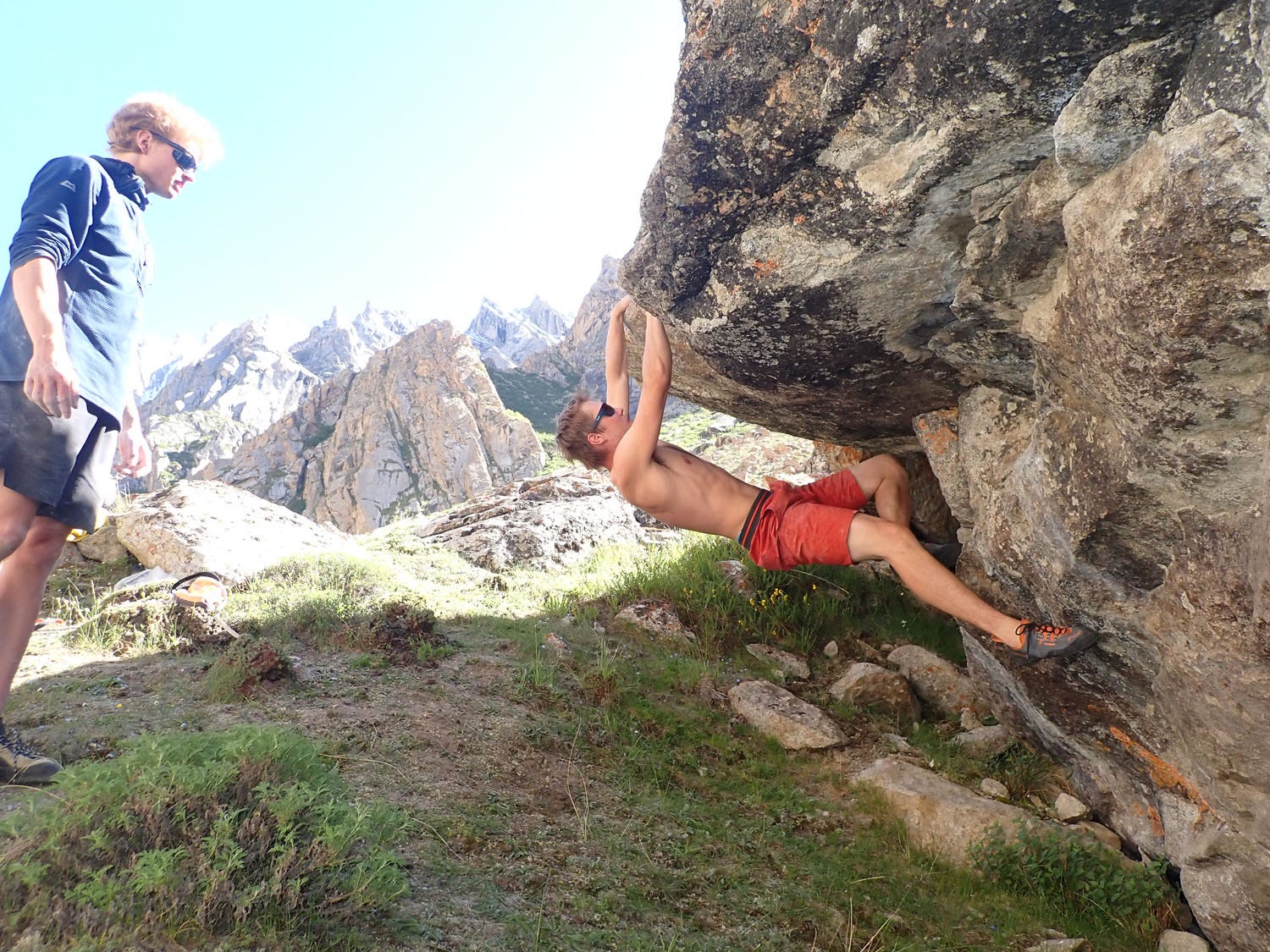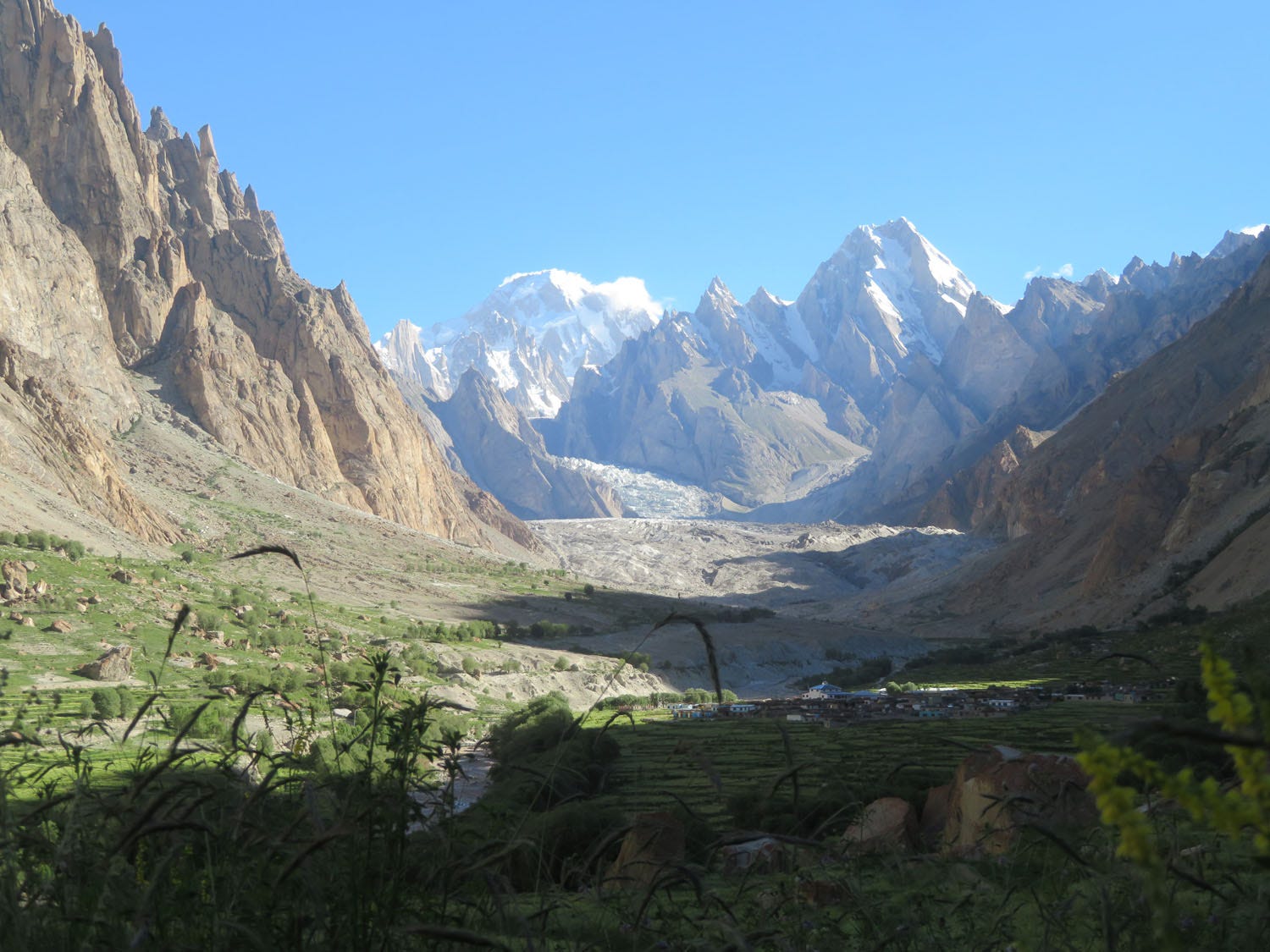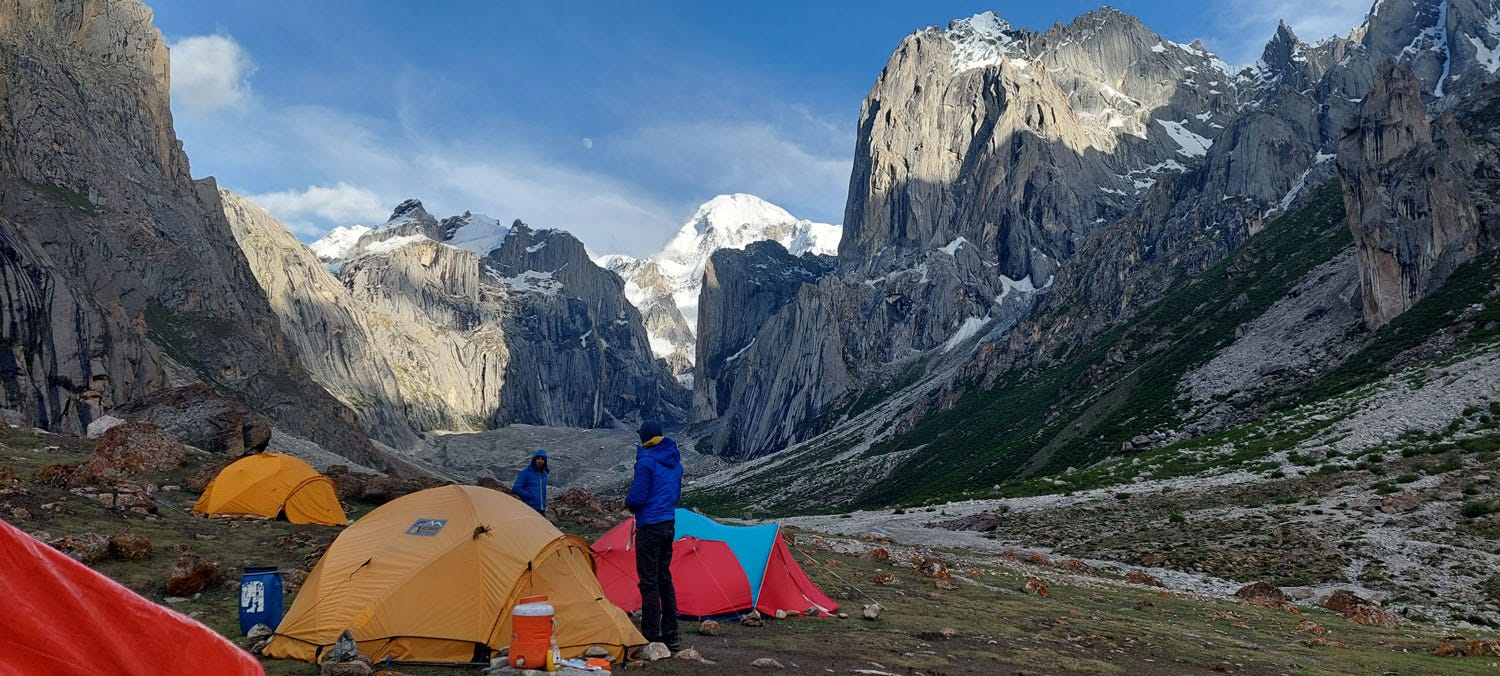 It all started at the Arctic Ice Festival in Northern Norway, in the spring of 2020. At that time, I was eagerly looking for my next objective, something to attempt in the Greater Ranges. Luckily Steve Swenson was one of the key speakers at the event and he told me about an unclimbed peak called K13, located close to Siachen area in the Eastern Karakorum. Area was beginning to open up for climbers and there could be a chance to get a permit after many decades of closure.
Just over a year later we were on our way to Pakistan in late June as a team of three: Eivind Hugaas (Norway), Nelson Neirinck (Belgium) and me. The only information we had about the mountain was Steve's advice, some satellite pictures from Google Earth and one image taken from Link Sar by Graham Zimmerman. It was going to be an adventure!
After a hassle of cancelled international flights, few dusty days on the Karakorum highway, organizing last minute things in Skardu, and another jeep ride to the village of Khorkondus, we were finally ready to head to the mountains.
Walking to the Base Camp area in Mingling Valley took only few hours. We followed a raging river for most of it. Only a week earlier a team from France had left the same spot after having climbed the lower western summit of K13 via new route on one of the spurs of the north face. It didn't make a difference to our spirit, as we knew that there would be other good-looking lines on the wall and the higher, 6666 meter true summit of the mountain was still untouched.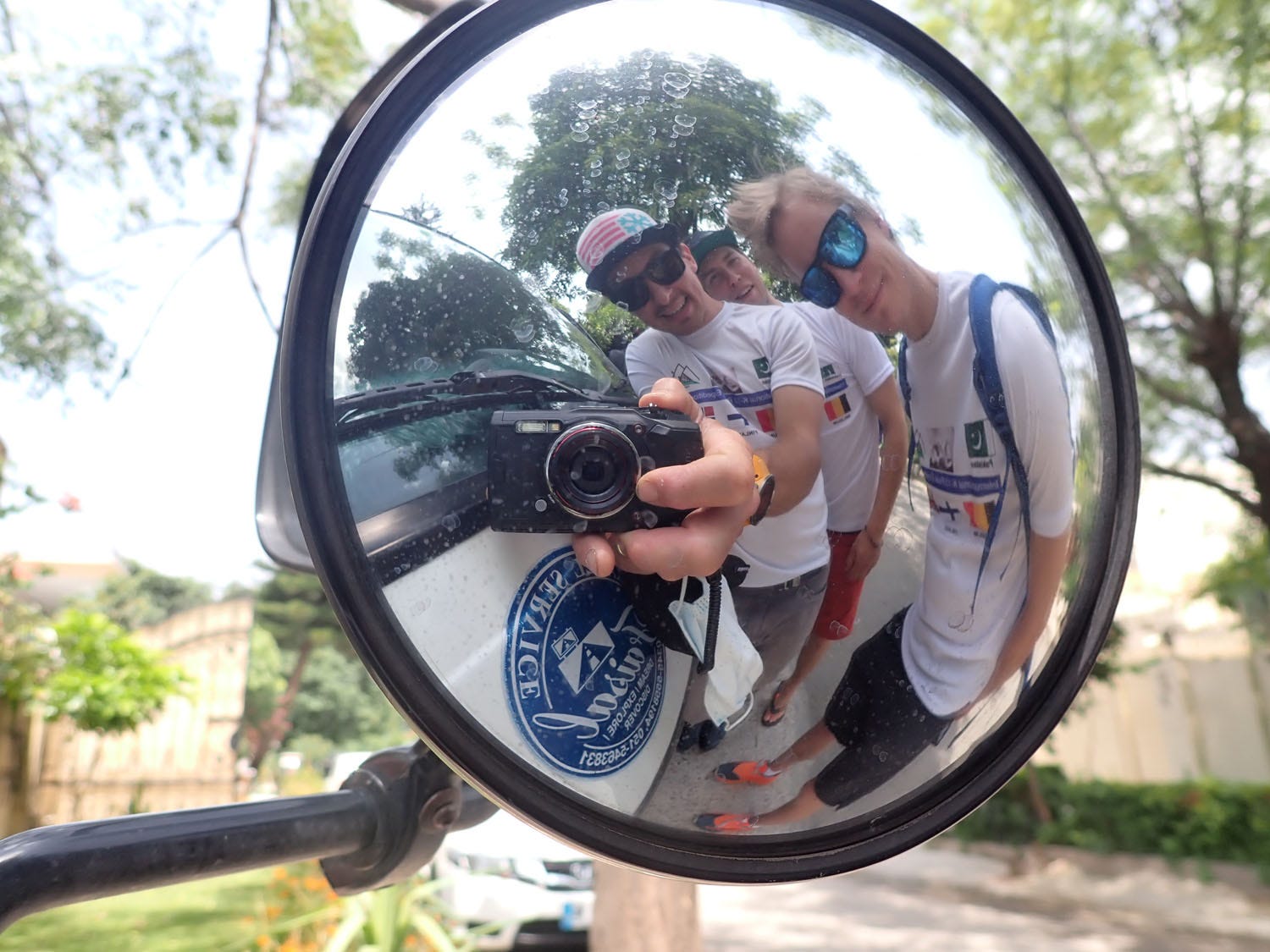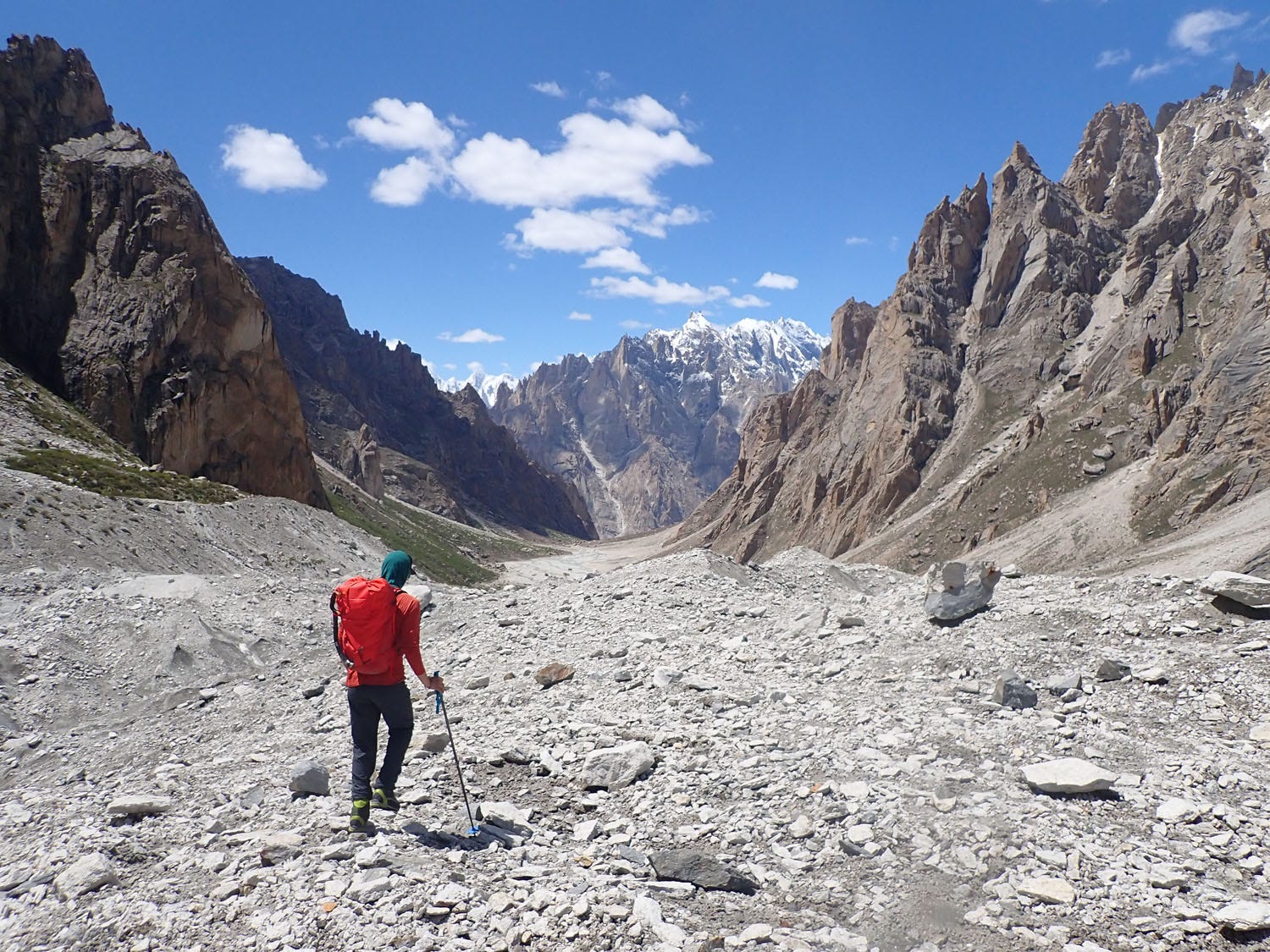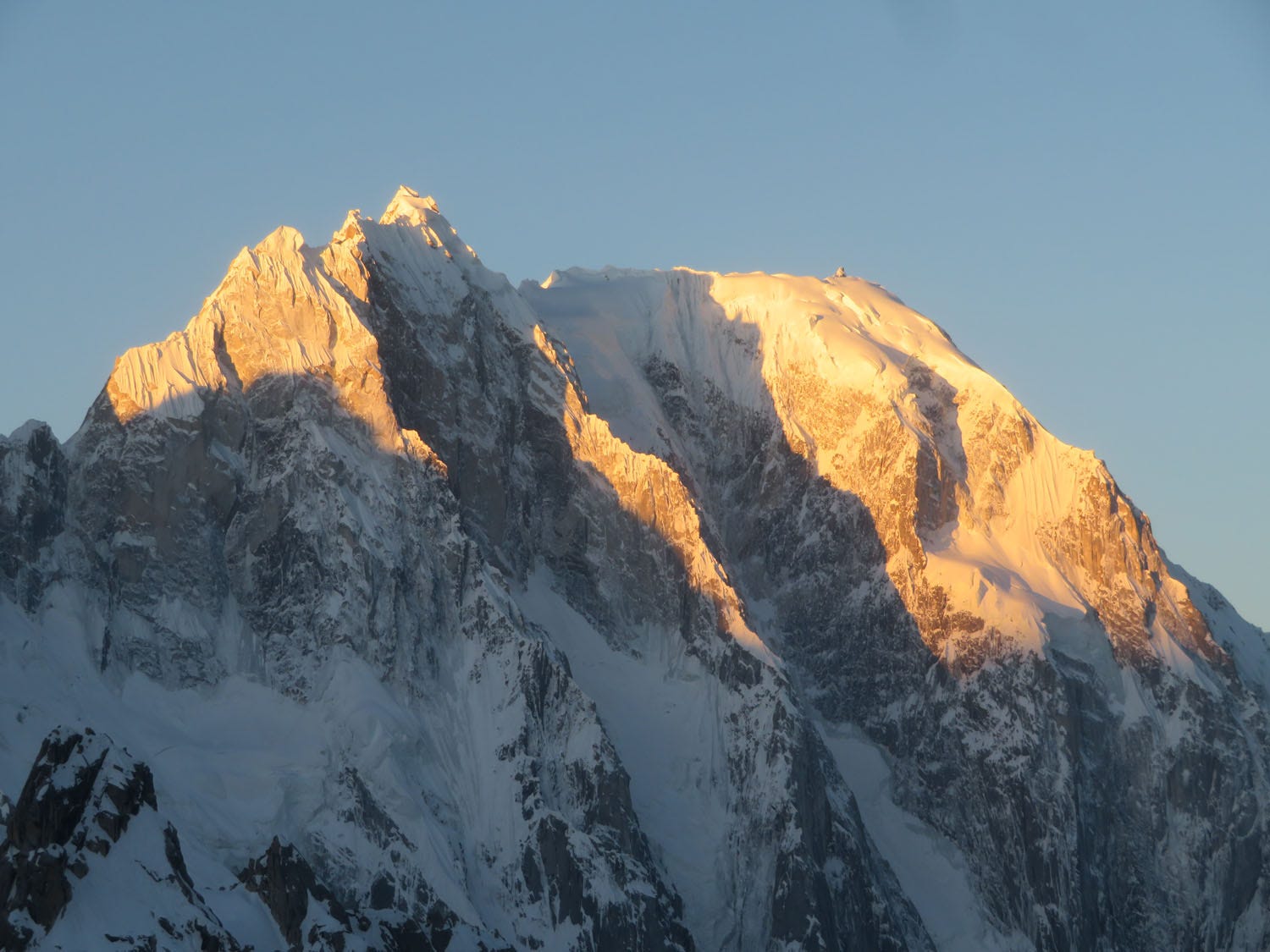 The first few weeks at altitude were like a slow-motion movie. Local shepherds ran past us wearing flip flops, and even if we wanted to move faster, we couldn't. It's a time to forget your goal for a moment, and focus only on staying healthy and getting acclimatized.
The weather was supporting us on the first half of the trip. Four days of sunshine followed by three days of rain, allowing us to rest at Base Camp between rotations.
We slept under the north face of K13 once, eyeing up our options to find a safe line through the manic north face full of seracs and snow mushrooms. Luckily, we found a way which looked relatively safe from objective hazards and gave us a boost of motivation to finish our acclimatization by a climbing a first ascent of an easier 6000m peak in the other end of the valley.
The peak we had in mind looked very prominent, but technically quite simple which was perfect, as saving energy for the main event would be more than wise.
On the 17th of July we stood on the summit of this 6210m peak at 03:40am. Darkness surrounded us, but we didn't have time to wait for sunlight as the day before had showed us the rough reality of the Karakorum heat. We had no other choice than climb during the night.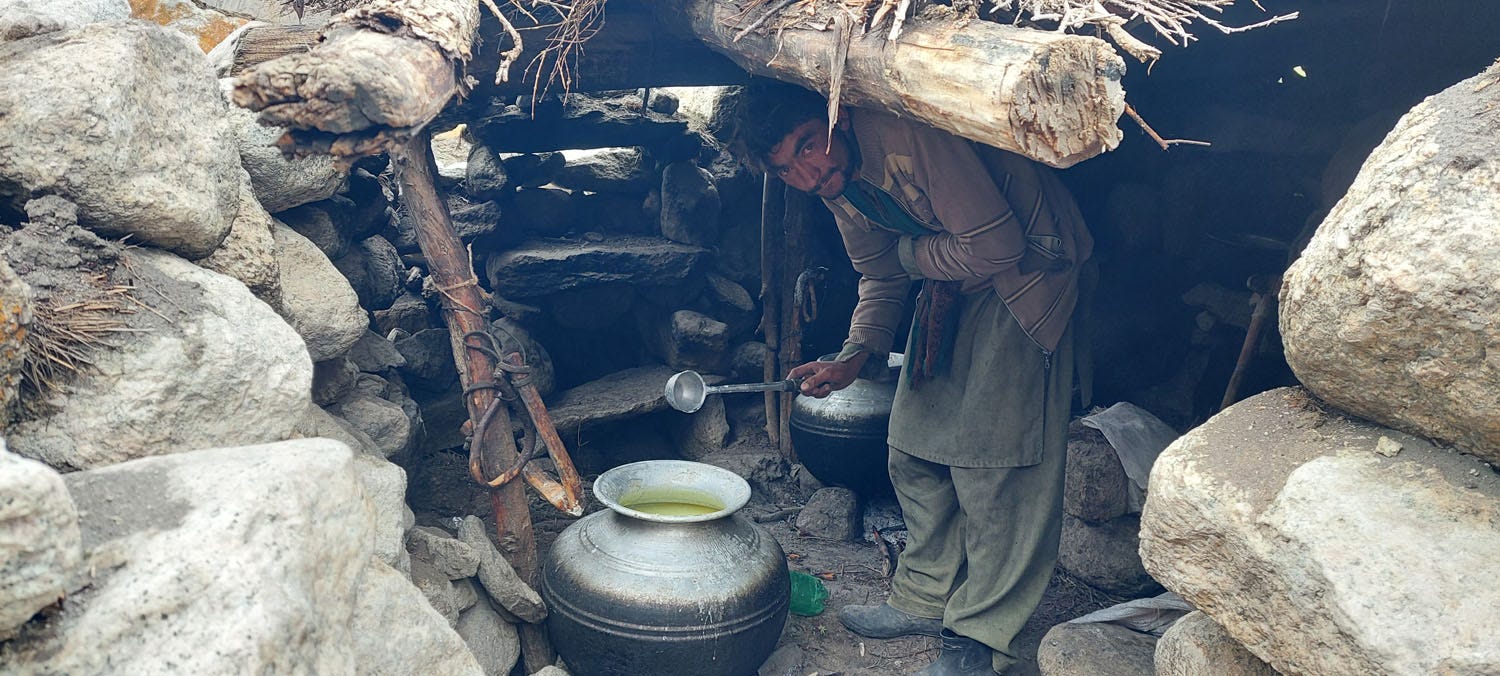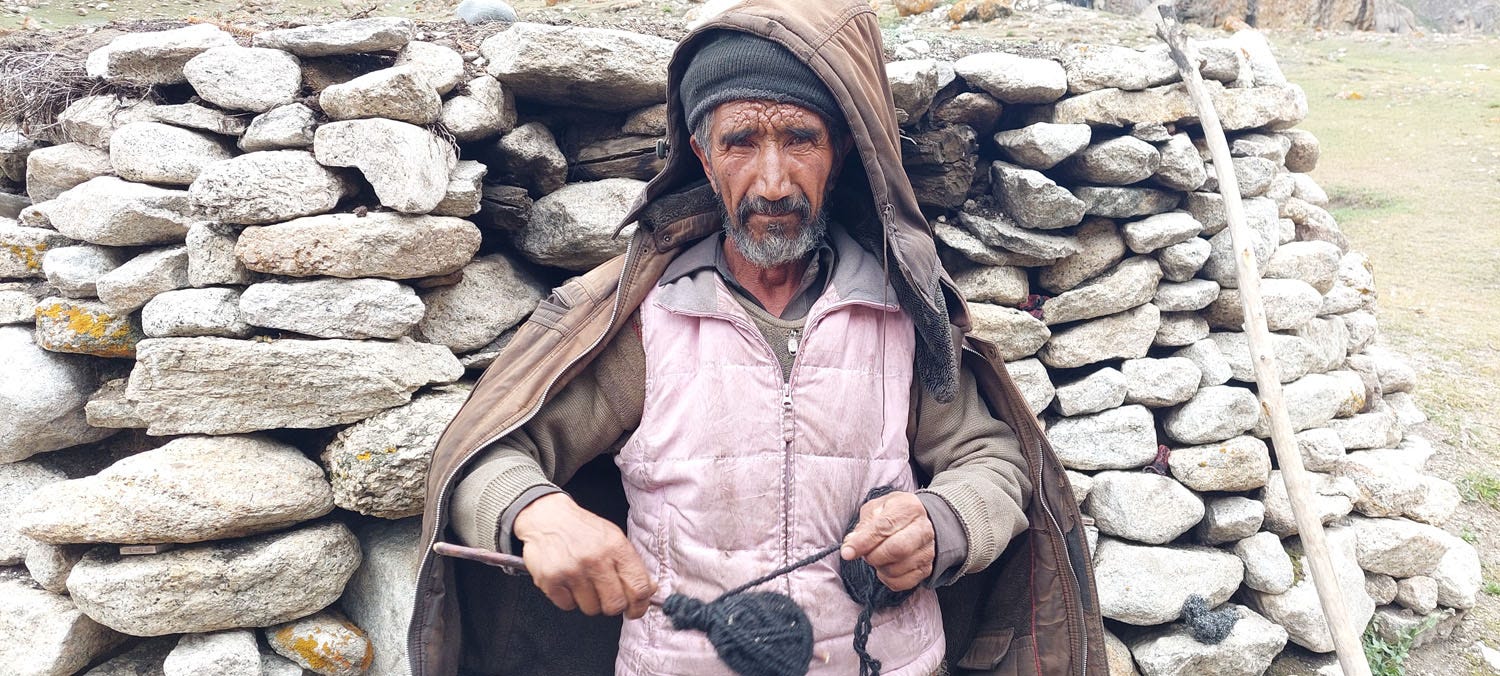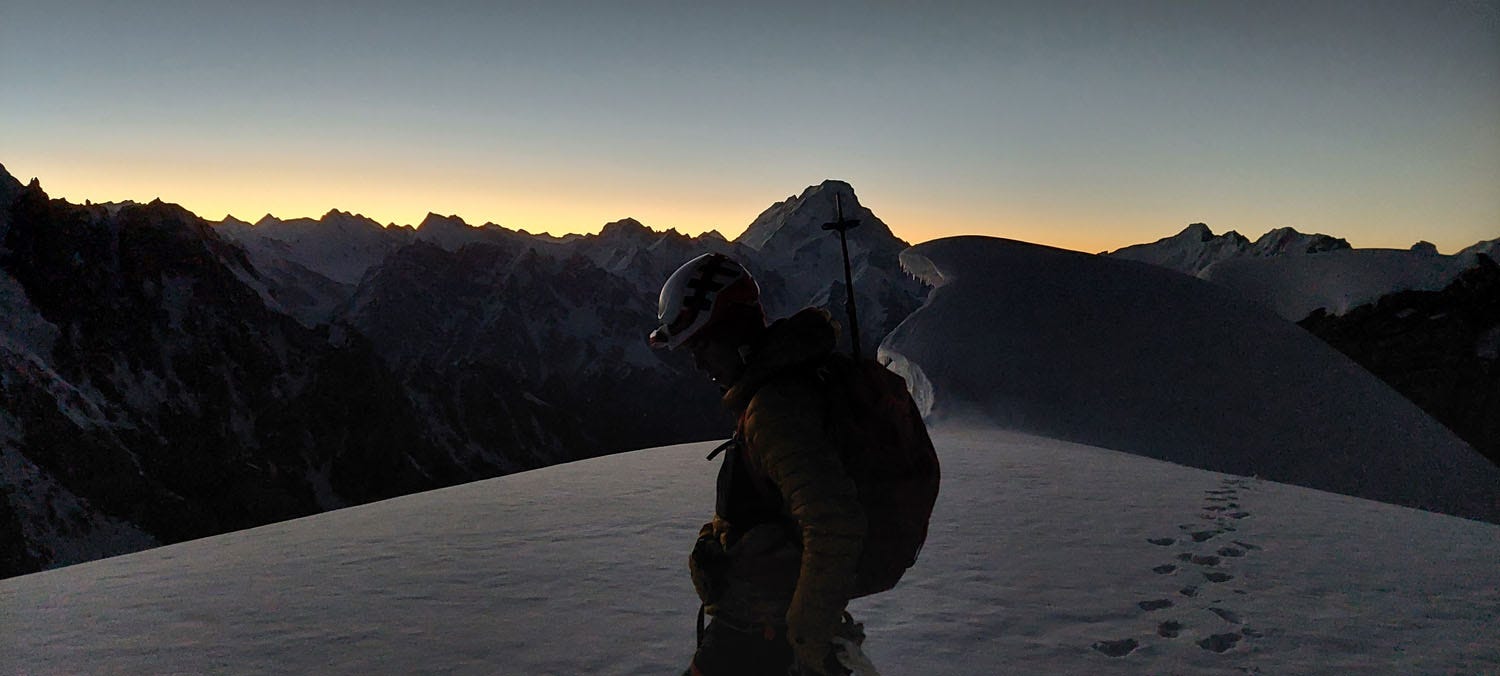 A few days later, we received a perfect looking forecast which promised a six-day weather window. It was time to give a K13 a go!
We returned to base of the face where we had been a few weeks earlier. On the lower glacier, snow had melted more than a meter, revealing a maze of crevasses. The upper mountain was plastered with snow though. It looked very wintery, but air felt as warm as ever.
After midnight we started simul soloing up the first snow and ice fields of our chosen line. The mountain was calm and quiet, except the distant rumbles of a serac fall somewhere deeper in the valley. We roped up below a chimney which would hopefully give us an access to the spur proper.
I led two very sketchy pitches on vertical snow that held me, but started to crumble for my second. Luckily, I took off my backpack before the steepest section, as there definitely was a weight limit. We were climbing middle of the coldest hours of night at 5500 meters but water was still running down the granite slabs as if it was in direct sunlight.
After another tricky pitch tackled by Nelson, we encountered an aid pitch, giving us time to think. Small pieces of debris were already raining down the face and it wasn't even early morning yet. The decision was easy. Without wasting a moment longer, we decided to rapp down. It just didn't feel right. In the mountains, it's better to listen your instinct.
The same evening, as we walked back to Base Camp, wet snow avalanches rushed down the 2km high north face. We didn't know that following days would turn out to be even warmer. We made the right decision. Reports from K2 talked about +10 degree readings above 7000 meters. The whole mountain range was melting like an ice cream on a summer's afternoon.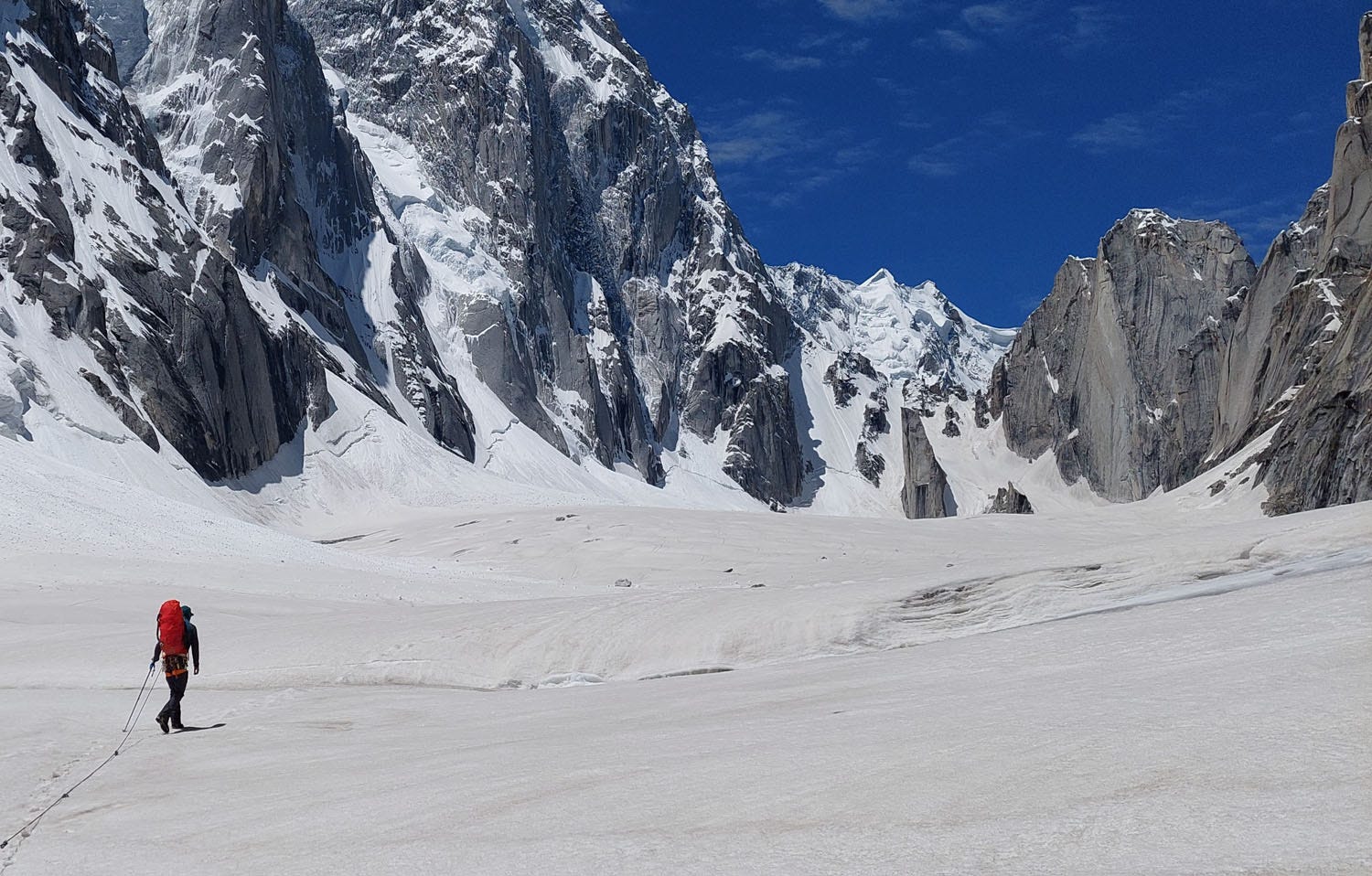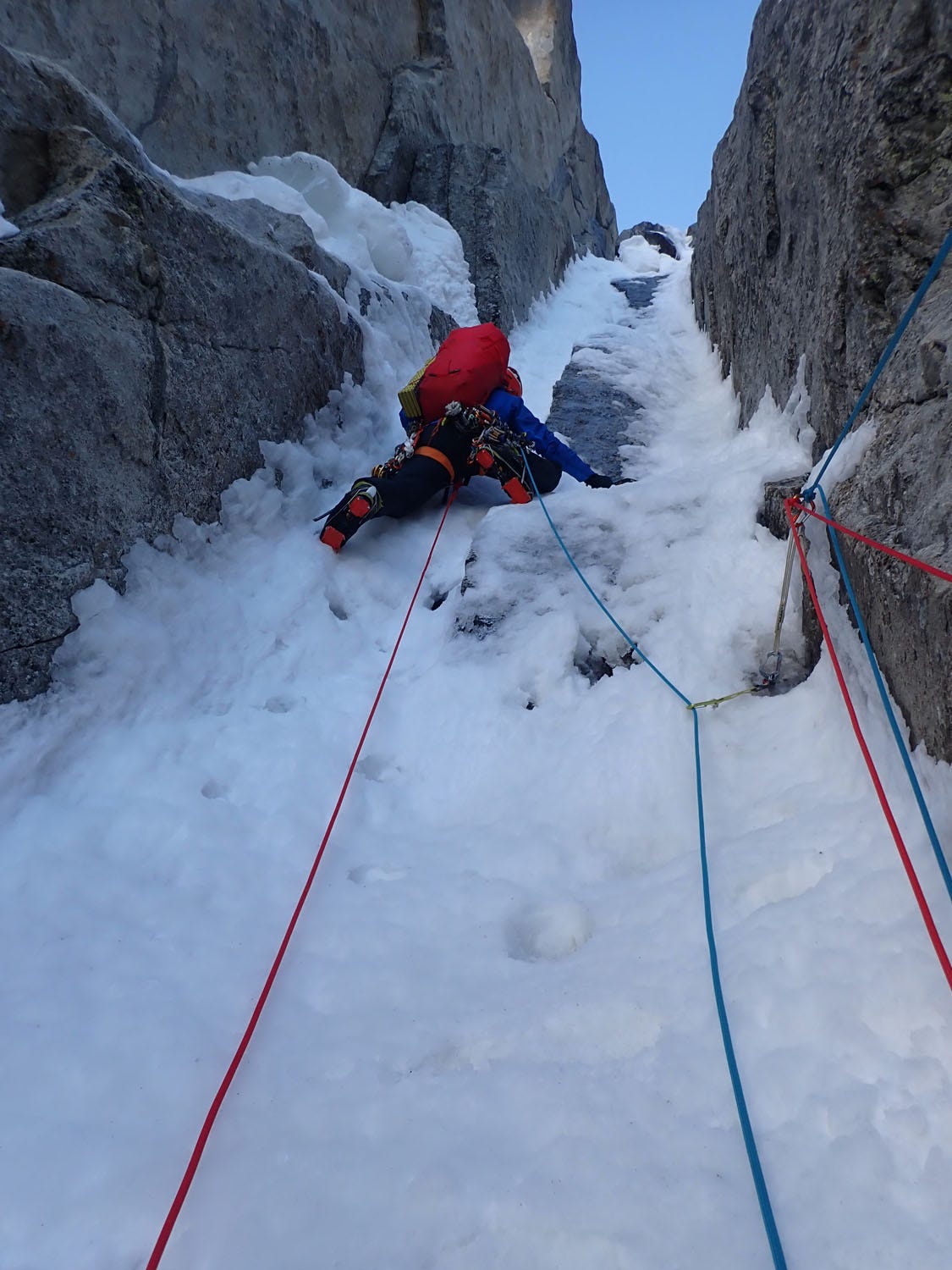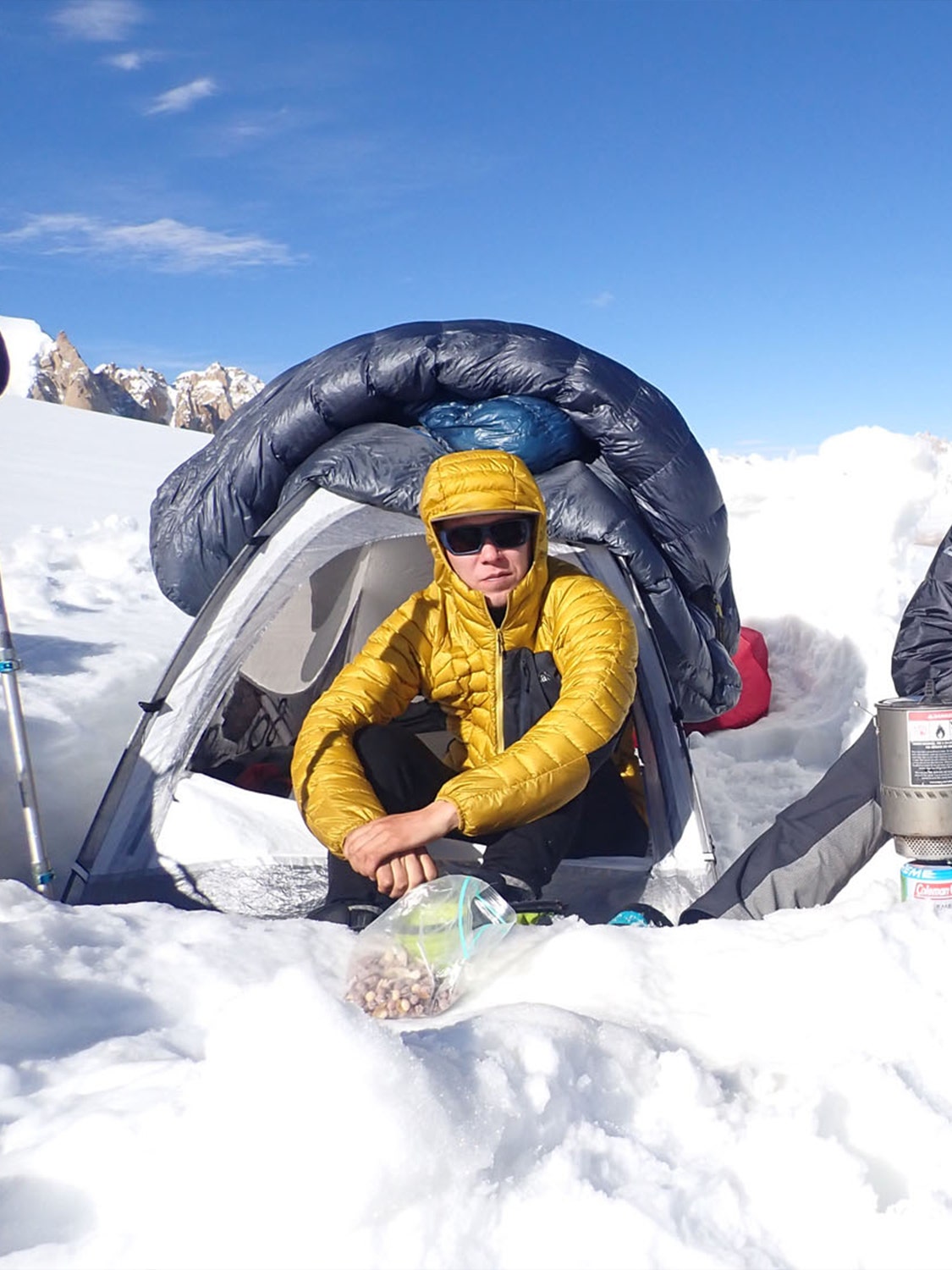 As we tried to escape the country, the weather got worse generally. The Karakorum highway was taken by the rains, flights were cancelled between Islamabad and Skardu due to bad weather, the delta variant was spreading like a wildfire, and our international flight was cancelled once again.
On a charter flight to Paris, I had time to think.
I would be on my way to Nothern Norway soon. Friction slabs and rainy days of Lofoten islands would be nurturing for the body and mind after all the suffering in Pakistan. Still, I felt drawn back to K13. We made the right decision, but now we knew the place, how things work in that corner of the world, and what a next attempt would require to be successful.
I was in a space between two paradises.
---
A dedicated climber, Juho has mastered almost all disciplines of climbing. He's made impressive ascents of the north faces of the Eiger, Matterhorn, and the Grand Jorasses, while also putting up new routes in Finland.

Read more about Juho here