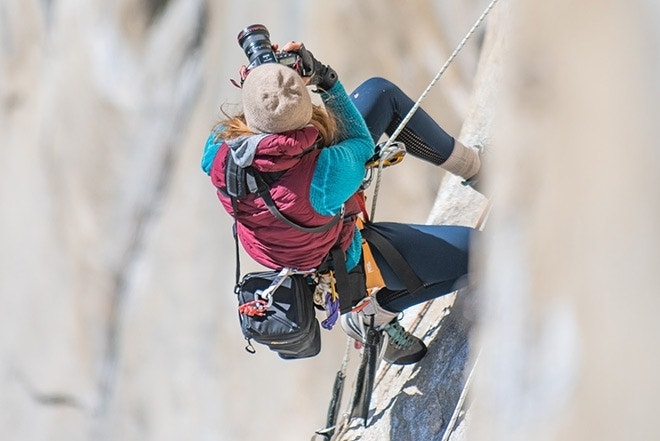 Julia fulfils a lifelong dream of capturing an ascent of Dawn Wall, a 3,000 foot face in the Yosemite National Park, California.
She shares her experience of documenting the trip through the lens, from its beginnings in Torredembarra Spain.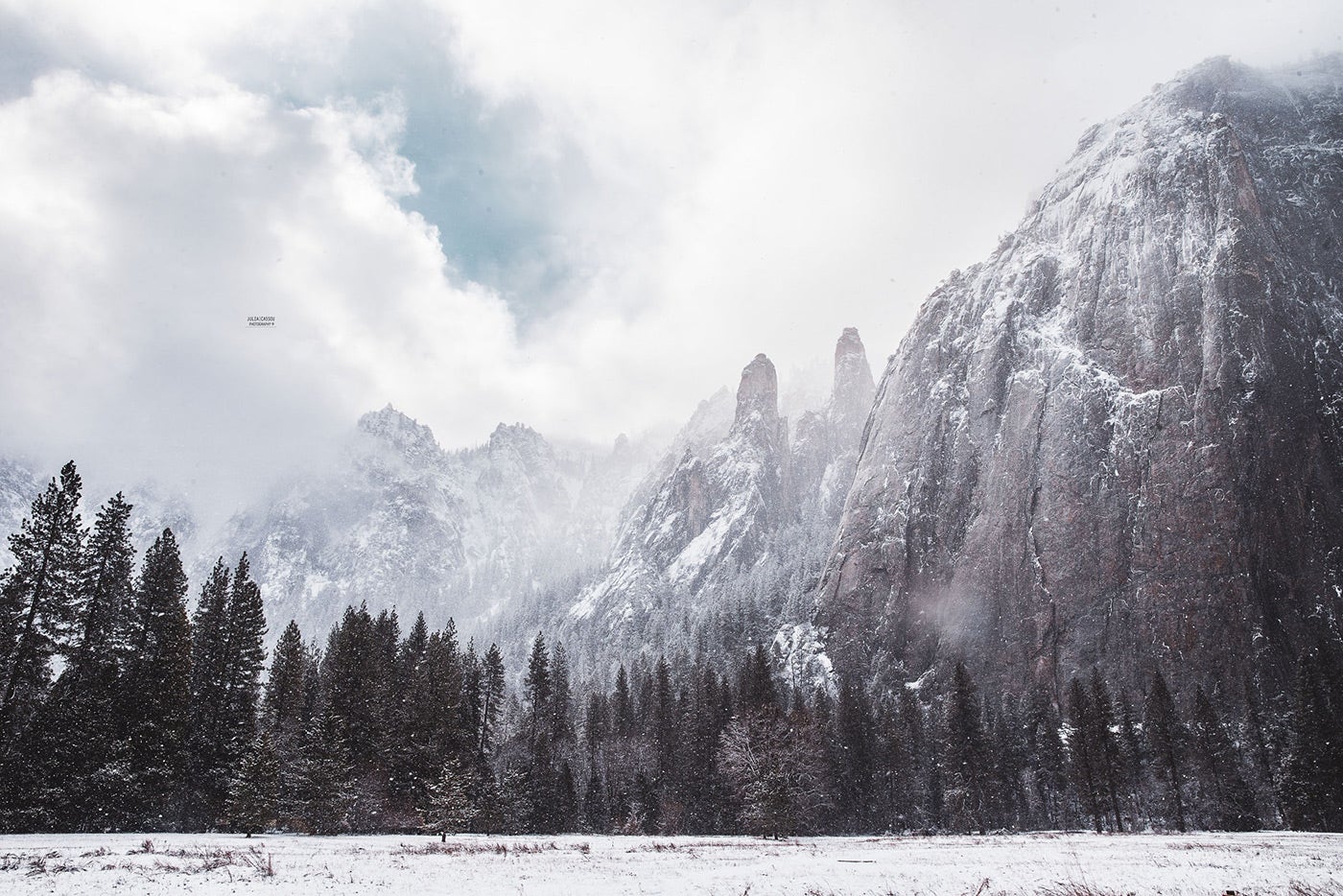 Around each curve of the road my heart is bumping,
"Is it here? No, not yet … Next one?"
The road is completely frozen, we are driving with our old and iconic Nissan Santra. Thousands of meters of static rope, climbing gear, and camping equipment fill up every inch of the car.
"I think it's the next tunnel" said Seb.
He does not recognize the valley with all this snow, and it's been a while since his last visit. He is as excited as I am. We have been driving for days, from Mexico to California on an epic road trip through the US with a few hour-long "power naps." We crossed Texas, New Mexico, Arizona and finally California.
We have already been traveling for months. Starting in, passing Gibraltar, the erupting volcano from the Canary Islands, the riots in French Guadaloupe and crossing the Caribbean Sea. We have been traveling to this point and preparing for this moment for a year now. We are so close to our goal: the Yosemite Valley. Two different dreams have come together: for Seb, it is to free climb the Dawn Wall, and for me: to document the process.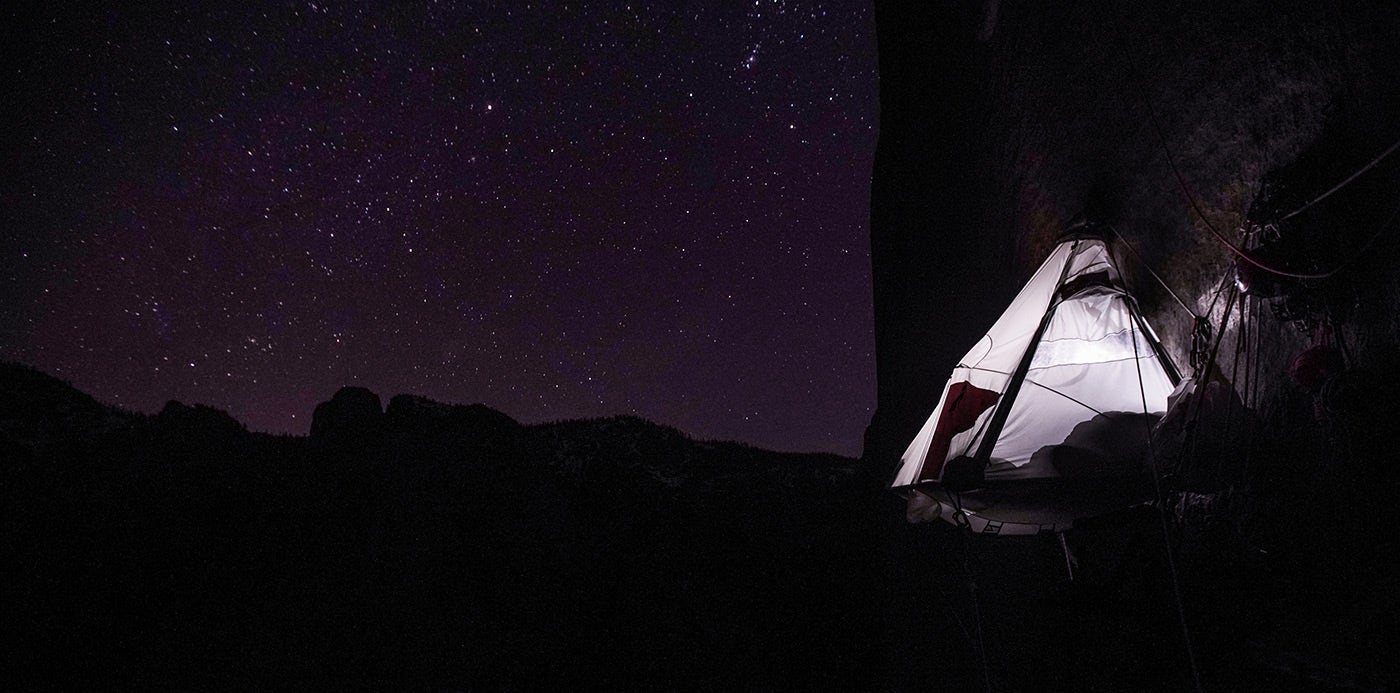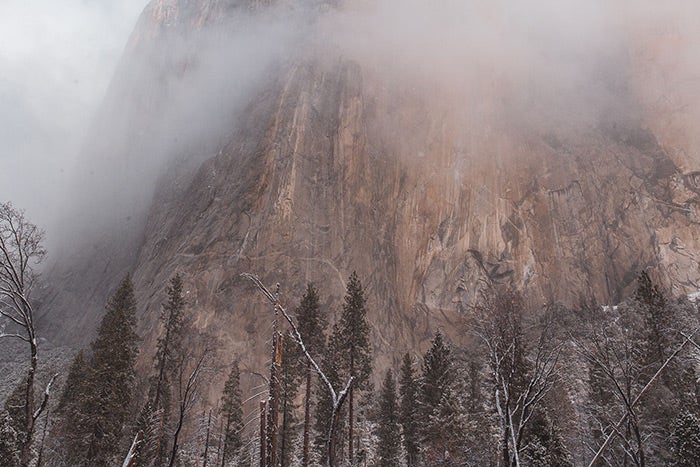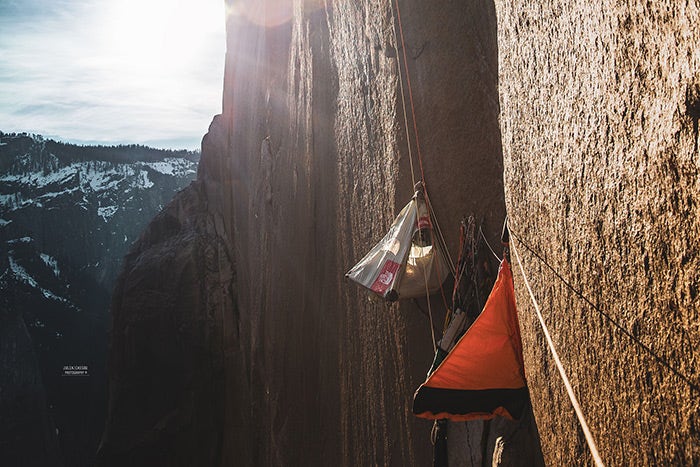 It is the 8th of January. Exactly four months ago, on the 8th of October, we left the harbour of Torredembarra in Spain with a team of seven climbers, one dog, and a dream. To reach Yosemite with a low carbon impact.
I started to wonder, how did it all start? How did I end up here.
Let me take you back in time. Not a year ago but 20, when the young Julia was using her father's camera and taking pictures of all that surrounded her.
This is how it all started. In the remote countryside dreaming about adventure travel and taking pictures of the people there. The mountain people, the explorers, the adventurers. I never dreamed about being an athlete myself or saw myself as the main character of these stories. I dreamed about seeing, looking, observing, and then transcribing this story and this energy into pictures. I am an observer. I love playing with my sight and communicating what I see. I dream about sharing what I observe, in the wildlife, in the climber. All I see creates this feeling of being on a great adventure.
I contemplate, appreciate, and respect all their movements and expressions.
For hours from my rope, I study what I see, and I strive to put all this into one picture. I look into people through their climbing.
So when Seb dropped this idea around a campfire to reach Yosemite and climb the most accessible big wall in the world, in the most inaccessible and slowest manner, I was immediately on board.
"Let's be pirates, let's cross the Atlantic ocean with a sailboat, let's climb big walls in the United States!"
None of us had any experience sailing, we were six climbers searching for sailors and a boat to cross the Atlantic. It seemed impossible, it was too big, a project too wild, too expensive. But finally we found them, our ever-optimistic sailors and their vessel Samsara. Finally, we came around the last curve, out of the tunnel. Ahead of us was our destination.
El Capitan - An imposing wave of granite rising out of a sea of green giant trees. Its form reminds me of the bow of Samsara, as if it had sailed to its resting place along a turbulent sea of glaciers.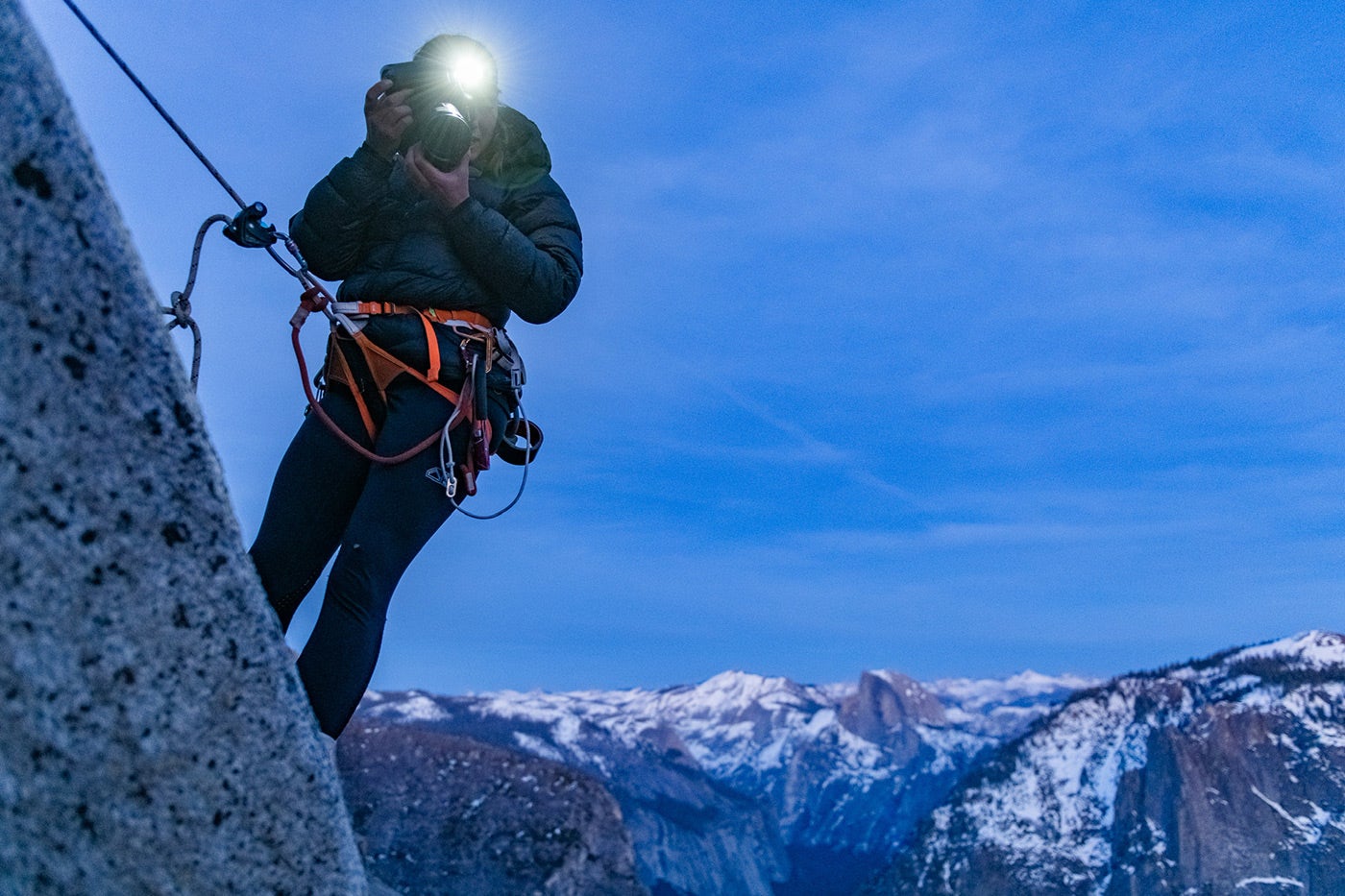 Through my emotion, I can't breathe as we drive. Tears start to pearl up in the corner of my eyes. We have arrived. Are we going up there?
The idea is at least as overawing as crossing the Atlantic ocean on a small sailboat. And I remember, again, when I first began to take pictures of climbers. I wouldn't have dreamed about taking pictures on this wall. I discovered climbing the year Tommy Caldwell attempted the Dawn Wall. I remembered thinking about those guys behind the lens, dreaming about the lucky ones that were working with these athletes and spending all their time sleeping in the tents on the wall. I'd never thought that six years later it will be my turn to document on this wall.
I've been hanging on my rope for hours now. It's getting cold, I'm shivering as the clouds form around me, and I take a sip of tea. The thermal winds push me on my rope as they shoot up the wall from the valley floor.
The wind starts to blow every day around 1 pm and does not stop until sundown, some days it shakes our portaledges as we sleep.
It's been seven days now that I'm on the wall. Seb is getting ready to give another go on the pitch 14, the key pitch. He just fell on the very last move, yet he has every chance of success. The crux of this pitch and the entire wall is at the very last move, directly in front of the chain, and me. As Seb climbs towards me I can see his tension, doubt, fear and determination in his face, and in his body.
I'm getting ready for his go, I'm setting up my zoom. Seb is putting his shoes on. I need the 70-200mm for the first crux, then I switch the lens during his rest. I choose the 16-35mm for the last crux. I need to focus,
"don't drop the lens, do not move too much, be invisible, hold your breath, be stable and find the perfect angle". The Tension is palpable as he starts climbing, a few "easy" moves and he reaches the first crux, the footholds are unreal.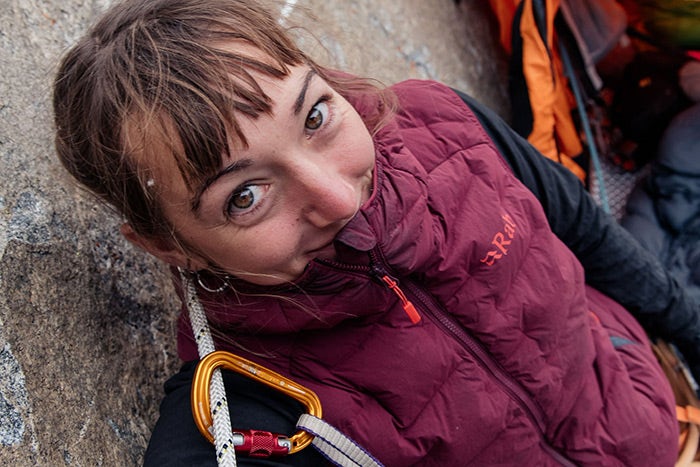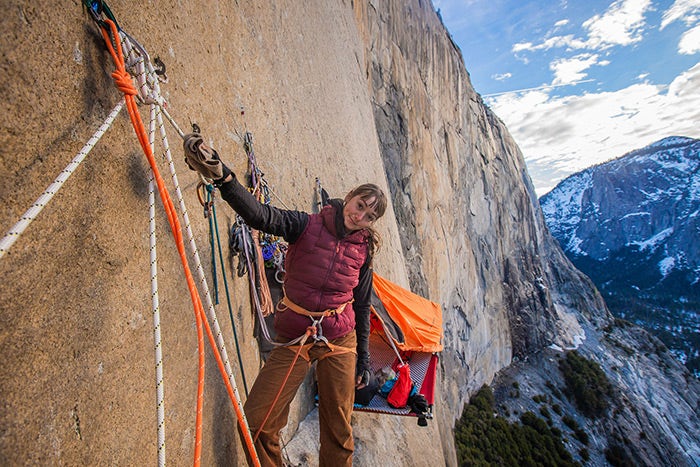 His choreography needs to be perfect.
Every millimeter of rubber, every piece of skin on the holds, the balance of his body, the way he moves, he must be one with the rock. The rock doesn't want you. The granite is rough here and Dawn Wall is the most austere side of El Capitan. In the end it's not a fight but a perfect dance.
Because this wall is more than a piece of rock, it's a piece of History. You need to come with respect. This rock has been singing and talking for decades. When you look at him did you listen to the hammers warbling on the pitons, the wood coins, the scream of terror of the first climbers and the relief and joy of the first climbers to reach the top. Can you hear the giants sequoia whispering the story of the Ahwahnechee?
The fire crackles at Camp 4. I look around me as it light's up our faces. I've met an incredible community of climbers here. My heart is full. How lucky I am to live this life, to meet all these inspiring souls, that they share a bit of themself with me, to be able to grow from all these encounters.
I spend in total 33 days on the wall and 15 nights documenting two climbers that I respect and appreciate.
Two climbers decided to follow their dream and attempt the hardest multi-pitch in the world. How can't you be inspired by their path? And by all the climbers here in Camp 4, all these stories. And I hope in some way that I add my stone to this building with my pictures.